Hotmail, the popular free webmail service, is to be replaced by a new email service called Outlook.com, based upon a revamped Microsoft Outlook - Metro style interface. As a Metro style app it is designed to be both touch and mouse/keyboard friendly. Microsoft says it intends to migrate all Hotmail users to Outlook.com but no timescale has been published.
"Modern email designed for the next billion mailboxes"
Key features of the new Outlook.com service are the sorting of emails as they arrive, preventing email clutter, and the integration of Skype into the messaging interface. Also social networks are built into the communications mix in your Outlook.com mailbox. Microsoft say the new email is "connected" with Facebook, LinkedIn, Google+ and Twitter. This integration "brings relevant context and communications to your email."
Other Microsoft services integrated into the new email are free Office web apps; Word, PowerPoint, Excel and OneNote, for collaborative working with contacts. Also Skydrive is built in for document storage and sharing which can be a substitute function to attaching files.
Gmail jibe
Microsoft reference "creepy ads" within your email interface during the Outlook.com promotional video above. Also in the Outlook blog Chris Jones writes "We don't scan your email content or attachments and sell this information to advertisers or any other company, and we don't show ads in personal conversations. We let you decide whether to connect your account to social networks, and which ones you want to use - and you're in control of who you friend or follow." Google's Gmail currently has 425 million users, better than Hotmail at 350 million and Yahoo mail at 310 million. If you buy an Android phone you usually will need to set up a Gmail account to use the market, that's a good way to get lots of new users.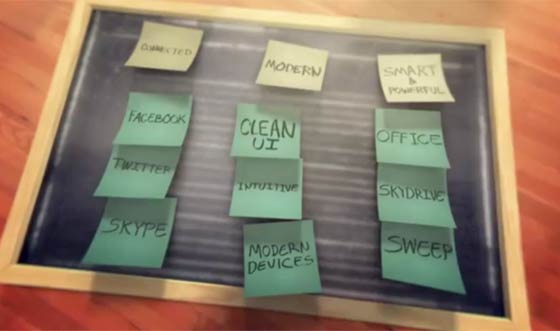 Microsoft has clearly taken care and attention over the Outlook.com interface and offer some impressive statistics and user friendly features; "Its fresh, clean user interface gets the clutter out of your way-the header has 60% fewer pixels and there are 30% more messages visible in your inbox than the webmail most people are used to. And there are no display ads or large search boxes that take up extra space."
Outlook.com is currently in preview, with no time set for its elevation to non-preview status. Right now Hotmail users can continue to use the old interface, which they may prefer. Also Hotmail users will be able to keep the email addresses they currently use even after everyone is migrated to Outlook.com. One million users have already signed up for Outlook.com within the first 6 hours of its launch.