Have you noticed that your inbox is slightly less full of junk lately? Well, it should be. According to a report by Symantec (PDF), spam volumes have continued to fall this month, and are now at the lowest levels for over a year.
The number of global spam e-mail dropped significantly in October, decreasing by 22.5 per cent compared to the previous month. This also marks a 47 per cent decrease in the amount of spam since August. Given that the quantity of legitimate e-mails remains fairly constant, the number of junk e-mails - and so overall traffic - has now dropped by a sizable amount.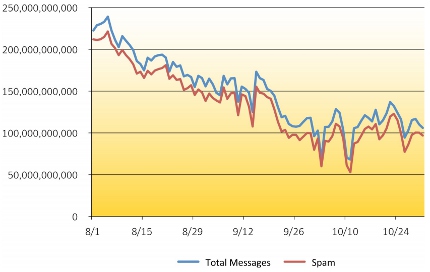 Interestingly, the US was thought to be the number one 'region of origin' for non-legitimate messages, with 27 per cent of all spam e-mails originating there. This was up four per cent compared to September. The UK made it to sixth on the rankings with four per cent, just behind the Netherlands, India, Russia and Brazil.
It wasn't all good news, though, as phising scams were actually on the rise in October, growing by around 0.3 per cent.
The most common spam e-mail in October
The dramatic decrease in spam traffic was largely attributed to the shutdown of a few major spamming operations. The Zeus ring and spamit.com were taken offline last month and several servers associated with the Bredolab botnet were recently disabled by Dutch authorities.
Unfortunately, spam still accounts for the vast majority of e-mail globally, making up around 86.6 per cent of all messages. However, this was still the lowest level that it has been since last September.