If YouTube is deemed fit for Royal treatment, then there's no reason why the White House can't have its own blog - particularly when its chosen President has technology high on the agenda.
Perhaps part of President Barack Obama's plans for a transparent government, the all-new White House blog forms part of a redesigned White House website. With Internet campaigns playing a vital role in President Obama's election, WhiteHouse.gov claims to be the "beginning of the new administration's efforts to expand and deepen this online engagement".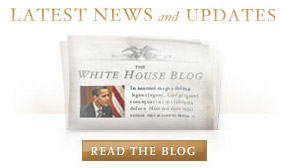 There's little in terms of interesting content at present, but with the President's well-known love for technology we're hoping to see some engaging content in the coming weeks - and it allows users to keep up to date via RSS or e-mail, handy.
Unfortunately, it isn't possible to leave comments on any White House blog post, but if you're interested in having a read, head on over to whitehouse.gov/blog.