Two months ago, Virgin Media sketched out its gigabit broadband plans for millions of homes in the UK. It said that trials were underway and rollout would start in the coming months. The broader plan was to roll out the 1Gbps service to 1 million UK homes by the end of this year, with the whole of the Virgin Media network targeted for 2021 - that's 15 million homes.

Today, Virgin Media's new DOCSIS 3.1-powered 1Gbps broadband, dubbed Gig1 Fibre, is being made available to approx 100,000 homes in Southampton. There is a new router launch alongside this gigabit service; the Virgin Media Hub 4.
It was already confirmed that Virgin Media's Gigabit package will deliver the following; an average download speed of 1,104Mbps and an average upload speed of 52Mbps. Virgin reckons Gig1 is ideal for things like watching streaming ultra-high definition 4K films and TV programmes, and downloads of very large files and 360 degree videos can happen "almost instantaneously, even with multiple devices using the connection simultaneously". For gamers, the connection should may be welcomed for virtual and augmented reality headsets, cloud gaming, and those massive AAA games downloads and updates.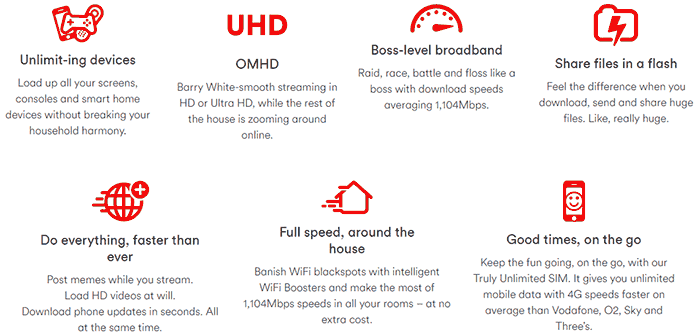 Virgin's Hub 4 is its new and best ever gigabit home router. This DOCSIS 3.1 compatible device has more antennae than its predecessor, plus improved Wi-Fi hardware for better, stronger, multiple connections throughout your home. From some technical details shared by Virgin Media we learned that the Hub 4 uses the Intel Puma 7 chipset and supports the wave-2 802.11ac Wi-Fi standard. It offers 3x3 MIMO on the 2.4GHz band and 4x4 MIMO on the 5GHz frequency.
Virgin has brewed up a few packages using this Gig1 service as the foundation. At the 'value' end, you will be able to get the stand-alone broadband solo offering for £62pcm. If you wish to have a phone line too, add £5pcm. At the other end of the spectrum, the Virgin 'Ultimate Oomph' bundle with all TV options and accompanying unlimited SIM card will be priced at £119pcm.
People get irked by price increases during the contract, and Virgin Media has become very aware of this, promising guaranteed prices for at least 24 months, even though these are 18 month contracts.
| | |
| --- | --- |
| Bundle | Monthly price |
| Broadband only | £62 |
| Broadband and phone | £67 |
| Big Bundle (Mixit TV, broadband, phone) | £72 |
| Bigger Bundle (Maxit TV, broadband, phone) | £89 |
| Bigger Bundle + movies (Maxit TV + Sky Cinema HD, broadband, phone) | £99 |
| Bigger Bundle + sports (Maxit TV + Sky Sports HD+ Sky Sports HD, broadband, phone) | £105 |
| Bigger Bundle + sports and movies (Maxit TV + Sky Sports HD and Sky Cinema HD + Sky Sports HD, broadband, phone) | £109 |
| Ultimate Oomph Bundle (All the TV, Ultimate Oomph broadband, phone and a truly unlimited SIM) | £119 |