Have a virgin friend who needs to get laid?
Ever since the CEO of Virgin Media branded net neutrality as "a load of bollocks", the subject has been of intense discussion around the internet.
Now, the notoriously unorthodox campaigner from Belgium, Tania Devereaux, is offering to make love to every virgin who defends the Internet.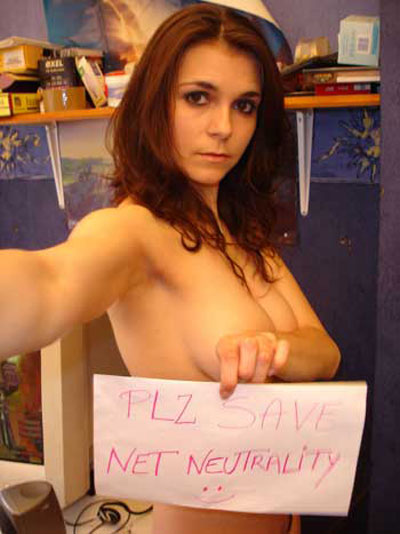 On her official website, Tania says:
"I'm using sex in a positive way to spread awareness. The reason why only virgins can apply is because I don't want to make this promise to such a large amount of people that I'll have to turn some down.

Net neutrality is paramount to safeguard free speech and innovation on the Internet. With only one arguably negative side-effect: an unusual amount of today's Internet users are virgin. That's a problem I intend to solve. In history, man has always waged war for freedom. Now it's time to obtain our freedom with love.

Sex is all over the net and yet it's still a big taboo for many. Using sex to spread awareness will be yet another big step to sexual freedom. This is just another great example of what's possible thanks to net neutrality."
Web users in search of a quick shag however should be aware that there are a list of requirements:
applicants must be 18yrs old or above
condom must be used, except if the applicant prefers to release his semen upon Tania's body without any oral or vaginal contact
Anal sex is negotiable, although Tania will cease the performance immediately if any form of 'surprise buttsex' occurs
multiple participants are not allowed, but applicants are entitled to have an audience observe the performance
if anywhere along the process, it becomes clear that the applicant is not a virgin, Tania reserves the right to terminate all activity
applicant must be able to provide sufficient evidence that clearly shows he has been defending net neutrality (eg. a print-out of a forum post, a link to a vlog)
applicant agrees that in the event of the applicant infringing upon Terms of Service during the process of the act, Tania is not responsible for any genital injury that the applicant may suffer
Tania may deny service for hygiene reasons
Furthermore, Tania states that each performance can last no longer than 30 minutes - though, we doubt any virgin could possibly last that long.
Tania herself isn't unfamiliar with using sex to make a statement. Last year, Belgian politicians made claims of creating 400,000 jobs. Tania, not believing a word, then offered 40,000 blowjobs and ran for a seat in the Belgian senate.
We're all for net neutrality, but is this taking things a little too far? If you think not, and happen to be a virgin, head on over to Tania's site and click 'Get Laid'.
Official website: dontstayvirgin.movielol.org
Related reading: HEXUS.channel - The pros and cons of net neutrality