Alphabet, the new holding company that includes Google, is now the most valuable public company in the world. After market close yesterday it published its latest quarterly results and impressed investors by beating estimates of both revenue and earnings per share.
Currently, in afterhours trading values, Alphabet is worth $570 billion. That is significantly more than Apple, the previous holder of the title of most valuable public company, which is worth about $535 billion. According to CNBC this is the first time the duelling tech giants have swapped places since 2010 - back then the lines crossed where less than half they are right now, that switchover took place at a value of about $200 billion. In 2010 the iPad was yet to be released and the newest iPhone available was the 3GS.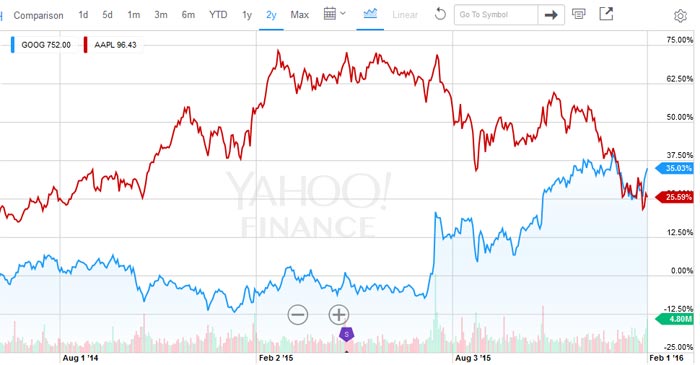 We looked at Apple's most recent set of quarterly results when they were published about a week ago. The financials marked several milestones; a record quarterly revenue of $75.9 billion, all-time record sales of iPhone, Apple Watch and Apple TV, and reaching an active installed user base of 1 billion. However it wasn't pleasing for investors as it has started to look like the iDevices have peaked and Apple's forecasts for Q2, if they pan out, will mark the first year-on-year decline since 2003.
As mentioned in the intro, Alphabet's latest financials have impressed investors by beating forecasts. Analysts were expecting earnings of $8.09 on $20.8 billion in revenue but instead enjoyed earnings of $8.67 per share on $21.3 billion in revenue. Google promises to maintain its dominance from desktop to mobile in its advertising and search positions. These cash cows generate so much profit for Alphabet that it can invest in all sorts of growth industries like VR, IoT and automobiles.
Alphabet's optimism was underlined in the latest trading statement "Our very strong revenue growth in Q4 reflects the vibrancy of our business, driven by mobile search as well as YouTube and programmatic advertising, all areas in which we've been investing for many years. We're excited about the opportunities we have across Google and Other Bets to use technology to improve the lives of billions of people," said Ruth Porat, CFO of Alphabet.