Intel reported its Q4 2015 financials last night after the financial markets closed. The headline quarterly figures it boasted were; a total revenue of $14.9 billion, a gross margin of 64.3 per cent, net income of $3.6 billion and earnings per share of 74 cents. Intel CEO, Brian Krzanich, said that the results were evidence of a strong finish to 2015 by Intel and consistent with expectations. However the markets look to have seen things differently and Intel shares have dropped 5.6 per cent in afterhours trading.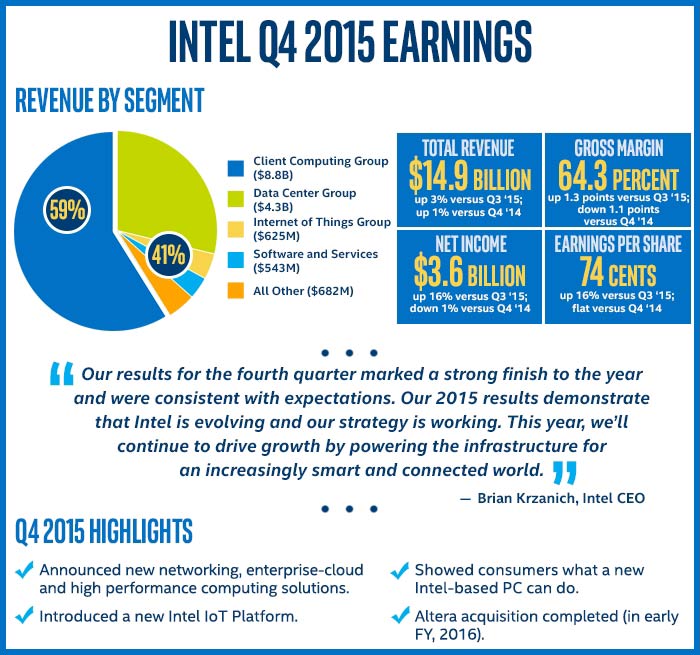 So what's stirring the pot? According to a Reuters report the strong quarterly profit "was overshadowed by concerns about slowing revenue growth in its highly profitable data centre business". Data centres are one of the areas that Intel is pursuing growth to offset the well publicised decline in sales of PCs and tablets. So while Intel could make decent profits overall and boast some increases here and there in the most recent quarter, it missed that important projection with regards to data centre revenue - a segment where it is hoping for sustainable growth.
Kevin Cassidy, an analyst with Stifel Nicolaus and Co Inc, told Reuters that he thinks many companies have put a hold on investing in new or expanding data centre equipment "as they know they are eventually going to convert to the cloud." For now they are simply maintaining the systems they have, he thinks. Intel's data centre revenue rose 4 per cent in Q4, but it had risen 8 per cent in Q3 2015.
Looking at the main area of interest for HEXUS readers, PCs, Intel's revenue from this segment fell 1 percent from a year earlier, to $8.76 billion. A report published by IDC on Tuesday claimed total industry PC shipments had fallen 10.6 per cent in the fourth quarter of 2015.
In other areas of Intel's business; the Client Computing Group posted revenue of $8.8 billion - up 3 per cent sequentially but down 1 per cent year-over-year, the Internet of Things Group brought in revenue of $625 million - up 8 per cent sequentially and up 6 per cent year-over-year, the Software and Services operating segments brought in revenue of $543 million - down 2 per cent sequentially and down 3 per cent year-over-year, and the revenue generated by the Non-Volatile Memory Solution Group was flat sequentially and up 10 per cent year-over-year.
CEO Krzanich said "While the outlook for the first quarter reflects some caution for overall demand, particularly in China, we continue to expect solid growth in the business in 2016," in an investors earnings call, following the publication of the results.