Intel has released its Q3 2018 earnings. The corporation was happy to report stronger than expected demand in its PC and data centric businesses, up 16 per cent and 22 per cent in revenue generation, respectively, year-on-year. Its third operating segment, the Non-Volatile Memory group was the only party pooper with earnings below market estimates.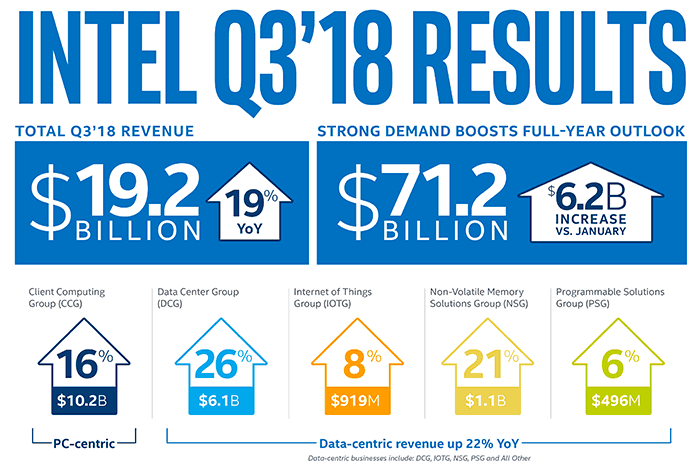 You can see Intel's selected highlights in the infographic above. Summing that up, it generated in $19.16 billion in revenue and EPS of $1.40 overall during the quarter, somewhat above the $18.11 billion and EPS of $1.15 that analysts expected. Revenue was up 19 per cent year-on-year and overall the company was enjoying the benefits of strong demand.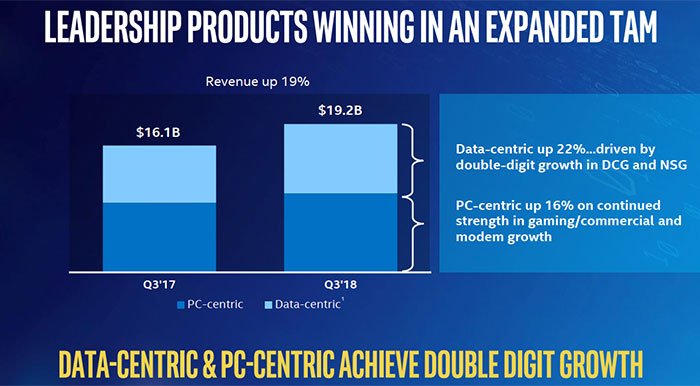 "Stronger than expected customer demand across our PC and data-centric businesses continued in the third quarter. This drove record revenue and another raise to our full-year outlook, which is now up more than six billion dollars from our January expectations. We are thrilled that in a highly competitive market, customers continue to choose Intel," said Bob Swan, Intel CFO and Interim CEO. Swann looked forwards to Q4 rounding off "another record year for Intel".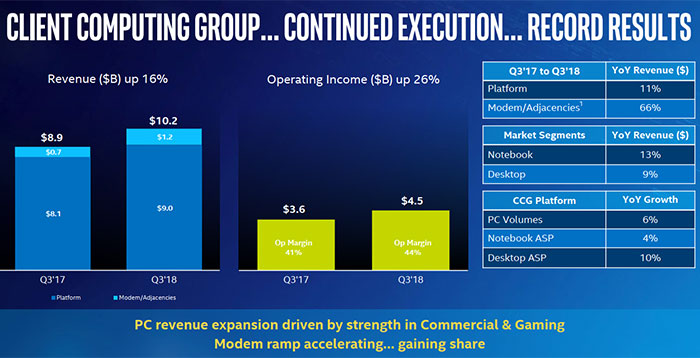 Intel's PC centric business brought in $10.2 billion in Q3 2018, which is 16 per cent better than a year ago. This success was underpinned by its processors' strength in commercial and gaming and the launch of the new U and Y-series 8th Gen Intel Core processors. These processors enabled faster connectivity speeds, better performance and longer battery life for thin, light laptops and 2 in 1 devices, said Intel. On the desktop side of things Intel highlighted the launch of "the world's best gaming processor," the Intel Core i9-9900K.

Above you can see the Intel business units separated out, for greater clarity. It will be useful to explain that DCG is the Data Centre Group, IOTG is the Internet of Things Group, NSG is Intel's memory business, and PSG is the Programmable Solutions Group. As well as PCs and data centre Intel was particularly happy with the record quarterly revenue of $191 million, up approximately 50 per cent YoY, brought in by Mobileye (part of IOTG).

In the conference call following results publication, we heard a little bit more about the hot topic of the 10nm process at Intel. "We have repositioned some 10-nanometer to 14-nanometer, and we are making progress with our 10-nanometer process technology," said Bob Swan. Venkata (Murthy) Renduchintala, president of Intel's Technology, Systems Architecture and Client Group added that he felt "more confident" about "10nm shipping by holiday of 2019" than in the previous quarter's guidance. So the company line was to reaffirm that expectation. Meanwhile, Intel faces the challenge from rival foundry products being launched at 7nm, and AMD's growing strength in the data centre.