Intel CEO Brian Krzanich has been setting out his renewed vision for employees this week, talking about company strategy. In an internal memo forwarded to CNBC News, Krzanich says that the company faces exciting challenges in areas where it is an underdog, that employees should welcome change as the new normal, and the company growth strategy will ultimately be about data. It sounds like the current CEO has been influenced by memories of Intel co-founder Bob Noyce, who once wrote "Don't be encumbered by history, go off and do something wonderful."

The Intel memo was sent out to employees on Tuesday. In the note Krzanich says he is satisfied with innovation in the client computing business – which covers the CPUs equipped by the majority of PC enthusiasts. That might be surprising to some readers who see Intel's strategy as a 'Steady Eddie' only reacting with CPU innovation when pressured by rival AMD.
The biggest opportunities ahead of Intel are growth areas such as connected devices, artificial intelligence and autonomous driving, asserted the Intel CEO. While he admitted the future was unpredictable, Krzanich said he was sure that data will play a significant role. "Anything that produces data, anything that requires a lot of computing, the vision is, we're there," wrote the Intel boss.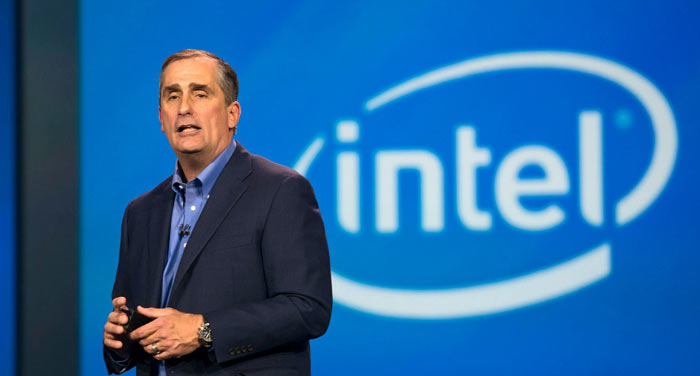 We have seen Intel dip its toe into a wide range of markets, to test the waters in recent months and years. It has invested in companies such as Altera, Mobileye, Movidius and Nervana. However it has withdrawn rather quickly from some activities it once thought were worthy; for example its maker community devices and wearables / health gadget products have been wound down.
As Intel approaches its 50th anniversary in July 2018, it is "just inches away from being a 50/50 company, meaning that half our revenue comes from the PC and half from new growth markets," wrote Krzanich in the memo. He signed off after sharing the prediction of a record year for the company, and thanking employees for their continued support.