Losing face
Following the data from Inside Facebook we wrote about yesterday comes a blog from the UK arm of Hitwise, revealing who Facebook is losing ground to in the UK.
The data is actually a week old, but relevant nonetheless. Between April and May Facebook lost over a percentage point of market share in the UK, with most of that being taken by YouTube and Twitter, as illustrated in the table below.
"It has been a pretty extraordinary month for Twitter, with more visits coming to the website than ever before," said Hitwise research director Robin Goad. "Twitter has carved a niche for itself as an excellent platform through which Internet users can share and consume news.
"As the micro-blogging platform becomes more mainstream marketers need to be able to monitor what is being said about their brand and how they can engage with this ever increasing audience online. Twitter is no longer purely in the domain of early-adopters; rather it is becoming a mainstream tool which is being used increasingly by all types of Internet users, regardless of their online preferences."
While Twitter's growth is interesting, a mere three percent share of all social networking visits seems pretty low. Maybe this is only taken from visits to twitter.com, whereas many people use the service via desktop and mobile clients. And as Goad points out, Facebook still has a massive share of all social networking traffic, but it will still be interesting to see if these declines persist.

YouTube is clearly going from strength to strength, as emphasised by comScore's recent European online video market figures. They revealed that Germany is Europe's biggest market for online video, both in terms of audience and activity per viewer.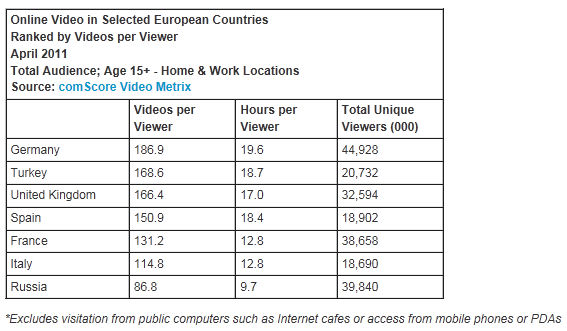 There was, however, further encouragement for Facebook as it's in the top three online video sites in many countries, and number one in Turkey.