Two steps forward...
In its quarterly worldwide PC microprocessor report, market researcher IDC observed growth in the PC chip market slowed significantly in Q3.
Unit shipments and revenues grew by 2.1 and 2.5 percent, respectively over the previous quarter. The average sequential change for that period is 10.6 and 9.0 percent respectively, so that's a fair bit slower than normal.
"Market demand for processors was weak in July and in August," said Shane Rau, director of research at IDC. "OEMs have become very reactive to any hint of slackening end demand. And, when they cut their PC build orders, like they did in late 2Q10 and the first half of 3Q10, not only did they cut their processor orders, they caused their contract manufacturers to cut orders for commodity components. The whole supply chain is skittish."
Onto the vendors, AMD has grabbed a small amount of market share from Intel over the course of this year. This is entirely down to the gain of almost two percentage points of market share in the mobile CPU market compared to the same period last year.
While this more than off-set losses of market share in the desktop and server markets, these losses must be of concern to AMD - especially with it commanding such a small proportion of the server market now.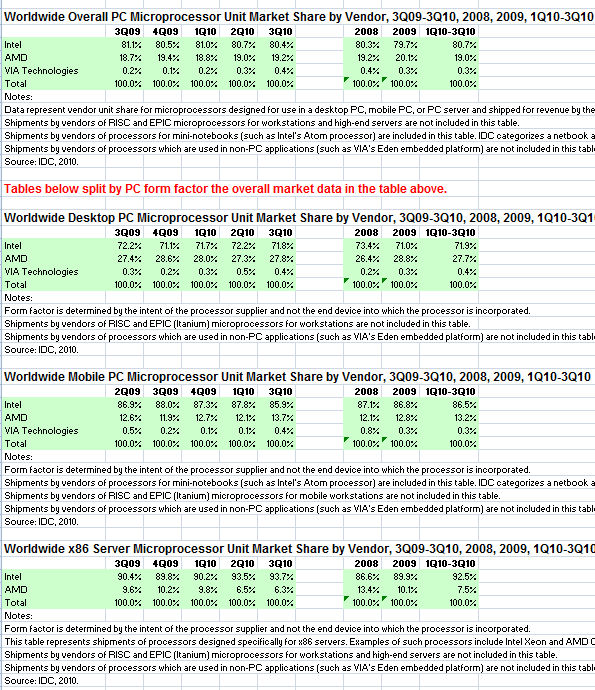 "We believe that the fourth quarter of 2010 will be a decent quarter," said Rau, "and we reiterate that the second half of the year will be seasonal given the early build for Intel's Sandy Bridge and AMD's Fusion architecture launches.
"However, year-over-year growth in the second half will be lower than that seen in the first half of the year. For 2011, we believe that, even though the consumer segment will remain stalled in developed regions, IT executives will see PC upgrades as a priority over the next 12 months which should result in double digit growth in PC systems and PC processors units next year."