Last night Apple published its latest set of quarterly results. Its Q3 2015 financials broke company records, with growth evident in sales of iPhones and Mac computers. The company also cited "the successful launch of Apple Watch," as being behind the great results but didn't divvy up any numbers for the sales of its first wearable technology device.
Key figures in the quarterly results are quarterly revenue of $49.6 billion and quarterly net profit of $10.7 billion, gross margin was 39.7 per cent. Apple's international sales accounted for 64 per cent of its revenue this quarter. The products sold in the quarter ending 28th June include; 47.5 million iPhones, 10.9 million iPads and 4.8 million Mac computers. Apple also enjoyed all-time record revenues from services such as the App Store.
Apple iPhones
Apple CEO Tim Cook was very pleased with the continued success of the iPhone. "We had an amazing quarter, with iPhone revenue up 59 percent over last year," Cook told investors. In the post-results conference call Cook said that the iPhone was benefitting from greater than ever numbers of Android switchers and the much larger proportion of re-purchasers who choose to stay with iPhone smartphones. iPhone sales generated $31,368 billion in revenue during the quarter.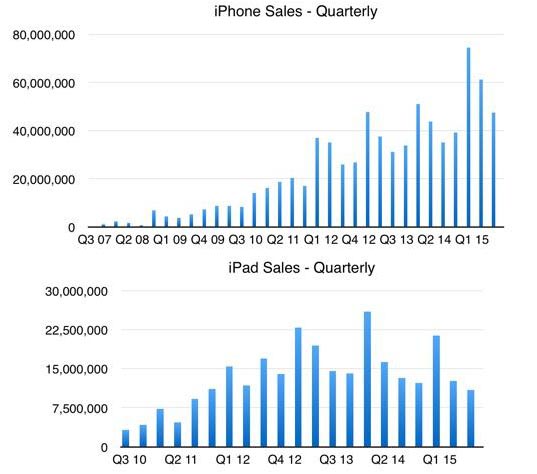 iPads and Macs
As ZDNet points out, the iPad looks to be in a very similar decline to that faced by the iPod range of MP3 players – but worse. While it sold over 10 million units that's a 13 per cent quarter-on-quarter decline and 19 per cent drop year-on-year. Last quarter we saw that Mac computer sales broke past iPad sales in value and this trend has been continued in the most recent quarter. Both larger iPhones and thin and light computers like the MacBook Air are chewing chunks from the iPad sales.

As you can see from the chart above Mac computer revenue grew beyond $6 billion compared to around $4.5 billion for iPads.
Other products
But what about the Apple Watch? In its figures Apple lumps this device in with sales of Apple TV, Beats Electronics, iPod and Apple-branded and third-party accessories in a category labelled 'Other Products'. This category brought in $2.6 billion during the quarter.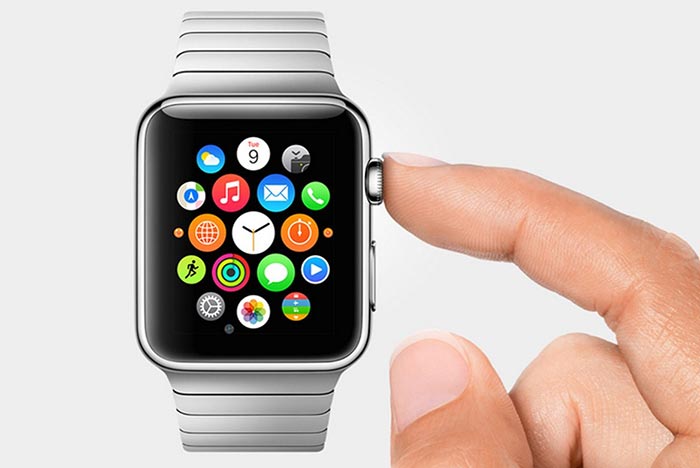 CEO Cook said that the Apple Watch was enjoying "a great start," but that was all we heard officially from the first full quarter during which the wearable has been available. However researchers at Canalys yesterday published estimates saying that the Apple Watch had become the world's top wearable with 4.2 million Watches sold in Q2 2015.
Looking forward the Apple CEO said that he was looking forward to the release of iOS 9, OS X El Capitan and watchOS 2 this autumn and customers signing up to Apple Music subscriptions. In Q4 Apple expects steady performance and to bring in revenue of between $49 billion and $51 billion.