Rory Read's tenure as AMD president and chief executive officer (CEO) has come to a sudden end tonight. Replacing Dirk Meyer as CEO in 2011, Read has steered the AMD ship through uncertain waters over the past three years.
Read, 52, is replaced by Dr Lisa Su, 44, who, since 2012, has been AMD's chief operating officer (COO). She becomes the first female boss in AMD history. The transition appears to be amicable, going by AMD's reports.
"Leadership succession planning has been a joint effort between Rory and the board and we felt that Lisa's expertise and proven leadership in the global semiconductor industry make this an ideal time for her to lead the company," said Bruce Claflin, chairman of AMD's board of directors.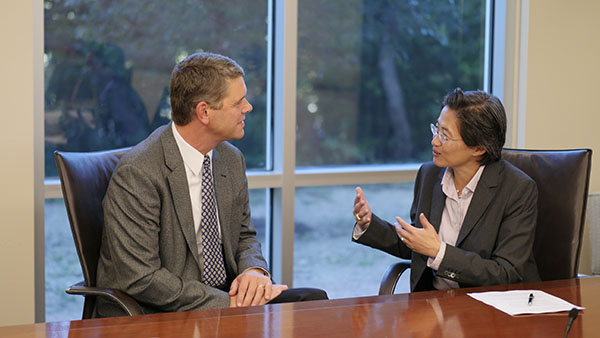 Rory Read, left, is succeeded by Lisa Su, right, as AMD president and CEO
Commenting on her appointment, Lisa Su said, "I am deeply honored to have this opportunity to lead AMD during this important time of transformation. Our world-class technology assets combined with the incredible talent and passion of the AMD team provide us with a unique opportunity to shape the future of computing." 
Lisa Su, like Dirk Meyer, brings technical prowess back to the top job at AMD. She holds bachelor, master and doctorate degrees in electrical engineering from the Massachusetts Institute of Technology (MIT) and was named Fellow of the Institute of Electronics and Electrical Engineers in 2009. 
Lisa Su interviewed by AMD's John Taylor
AMD has made a loss in the first and second quarters this financial year even though it features prominently in the Xbox One and PlayStation 4 consoles. Paying an indirect tribute to the outgoing Read's managerial skills, "Since 2012, AMD has reduced operating expenditures by approximately 30 percent and maintained cash at near an optimal level of $1 billion. AMD also improved its balance sheet by re-profiling its debt with no significant debt coming due until 2019."
Further details are being provided in an earnings call at 10pm BST (ongoing as we post this). Interesting times at AMD, that's for sure.