AMD's results for Q2 2014 were published yesterday evening. The earnings were a little below targets and the firm made a loss of $36 million, worse than the previous quarter loss of $20 million, despite revenue being up 3 per cent sequentially. This is quite a different story to Intel's mainly bright and positive Q2 results from a couple of days back.
AMD GAAP Financial Results

Q2-14

Q1-14

Q2-13

Revenue

$1.44B

$1.40B

$1.16B

Operating income (loss)

$63M

$49M

$(29)M

Net loss / Loss per share

$(36)M/$(0.05)

$(20)M/$(0.03)

$(74)M/$(0.10)
AMD president and CEO Rory Read remained positive "The second quarter capped off a solid first half of the year for AMD with strong revenue growth and improved financial performance," he said. "Our transformation strategy is on track and we expect to deliver full year non-GAAP profitability and year-over-year revenue growth. We continue to strengthen our business model and shape AMD into a more agile company offering differentiated solutions for a diverse set of markets."
Looking at AMD Computing Solutions first, the firm's revenue fell 1 per cent sequentially and 24 per cent compared to a year earlier. However it managed to squeeze more margin out of the fewer sales it did make, thanks to supplying chips for "a richer mix of notebook products".
AMD Graphics and Visual Solutions did much better, with a 5 per cent sequential increase and 141 per cent yearly increase in revenue generation. This was mainly thanks to the "increased semi-custom SoC shipments," such as its next gen console chips. Further analysis does reveal that GPU revenue was down both from the previous quarter (sequentially) and a year earlier. However professional graphics solutions helped stem this downturn.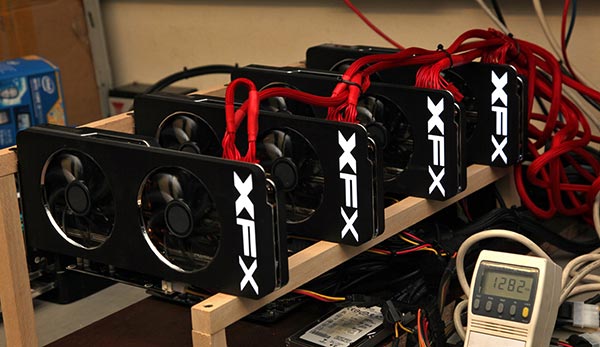 In a conference call following the results publication, the downturn in AIB channel GPU sales was blamed partly on the "slowdown in cryptocurrency mining-related enthusiast-class GPU purchases". Also, as miners turned to more efficient techniques for reaping Bitcoins and similar, the market is said to have been flooded with high end GPUs being sold off.
Positive moves by AMD in the recently completed quarter include; the unvieiling of the ambidextrous computing roadmap, the creation of the two above business groups, the appointment of Dr Lisa Su as COO, detailing plans to accelerate the energy efficiency of its APUs, design wins in Acer, Dell, HP and Lenovo laptops and the wider adoption of the Mantle API by the games industry.