If the Treasury asked how you would save money across Government departments, what would you say?
That's exactly the question that was asked of 600,000 public-sector workers, who suggested 60,000 different ideas. Now those have been sorted and 31 have been chosen to go through to the official Spending Review.
Among the suggestions were a fair few dealing with IT issues. Unsurprisingly, switching the entire public sector over to open-source software came up, but there were a number of other suggestions that are simple to implement and could save a lot of money.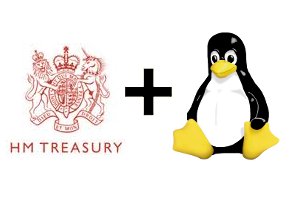 BFFs or Forbidden Love?
Switching PCs off at night may seem an obvious idea, but apparently it isn't done in the armed forces in case anti-virus updates are needed (suggestion 5). It also seems that Government printers are set to print in colour by default, needlessly wasting money on colour ink (suggestion 9). Another suggestion focuses on contracts with IT service providers that are reported to be needlessly expensive and negotiated on poor terms (Suggestion 3).
Of course, it's the idea of migrating away from Microsoft products that will grab the headlines (suggestions 8 and 28). But would it make sense in the long term? We already know that the Government is wary of high software-migration costs, but would this be offset by the lack of a licensing fee?
Microsoft has always argued that Windows is cheaper and easier to administer, and that Linux comes with a learning curve that will hurt productivity.
However, recent history suggests that the software giant needn't worry about losing government contracts, this is after all the same government that is sticking with the ageing IE6 web browser to save money.
The other suggestions are relatively easy to implement and it's refreshing to see the Government listening - or at least seeming to listen - to the suggestions of those on the front lines.