According to industry sources AMD and MediaTek engineers are working together to leverage AMD Radeon graphics in mobile SoCs, reports Fudzilla. This is big news for both companies concerned; AMD is getting back into the ultra-low power graphics market and MediaTek could have a USP to boast about in its up and coming chip designs.
If you think that MediaTek are just an upstart in the mobile chip business - think again - because last year the firm became the world's number two mobile device chipmaker according to Jon Peddie Research. With 23 per cent of the global market its market share nestles between Qualcomm (42 per cent) and Apple (13 per cent) and its shipments dwarf those of tech titan Samsung (4 per cent), for example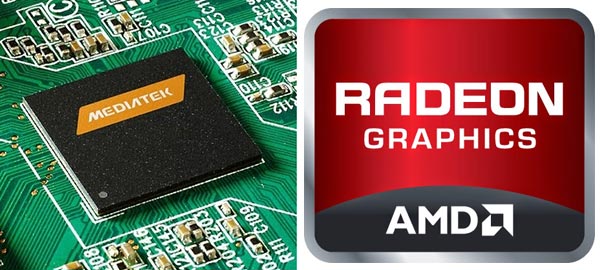 Back to the rumour in hand, Fudzilla says that "key AMD graphics people are in continuous contact with MediaTek and that they have been working on an SoC graphics solution for a while". It previously was reassured by a senior AMD source that "AMD didn't forget how to make good ultra-low power graphics," after selling off its Imageon mobile graphics division to Qualcomm in 2009. MediaTek is known to be fond of utilising Imagination Technologies PowerVR GPUs in its high-end SoC designs.
Currently mobile SoC makers have access to the following graphics architectures:
Adreno: based on Imageon by ATI, exclusive to Qualcomm.
PowerVR: can be licensed and used by chipmakers. Both Apple and MediaTek have used these GPUs.
ARM Mali: can be licensed and used by chipmakers. Currently used in many Samsung SoCs but may be replaced by Samsung's own GPU designs in coming months.
Nvidia Maxwell: Seems to be limited to Nvidia branded tablets right now in the mobile market.
Intel: has its own mobile graphics tech but has used PowerVR GPUs.
It isn't thought that MediaTek will have exclusive use of mobile AMD GPU cores but it does sound like it could gain a first-mover advantage, which could boost its business, depending upon the potency and energy efficiency offered by the SoC fruit of the collaboration.
AMD and MediaTek have declined to confirm or deny any collaboration.