AMD has announced that it is permanently reducing the prices of its A-Series APUs. The new list of 'Suggested Etail Prices' represents price cuts in the region of 20 per cent on many of the processors.
The chipmaker told HEXUS that the new pricing offers "builders and upgraders the best opportunity yet to grab a new twelve compute core (4CPU + 8GPU) A-series APU with HSA features (hUMA/hQ), full hardware support for DirectX 11.2, close to the metal API support (AMD Mantle), AMD TrueAudio, OpenCL 1.2, and OpenGL 4.4". The full table of Kaveri APU price cuts is reproduced below.
AMD A-series APU Model

Compute Cores

Graphics

TDP (cTDP)

Suggested Etail Pricing (USD)

A10-7850K

12 (4CPU + 8GPU)

R7

95 (65/45)

$143

A10-7800

12 (4CPU + 8GPU)

R7

65 (45)

$133

A10-7700K

10 (4CPU + 8GPU)

R7

95 (65/45)

$123

A8-7600

10 (4CPU + 8GPU)

R7

65 (45)

$92

A6-7400K

6 (2CPU+4GPU)

R5

65 (45)

$58
Looking briefly at the new prices, above, the top end A10-7850K was previously priced at $179 before its cut to $143. At the other end of the scale the A6-7400K was previously priced at $84 before its price was sliced to $58.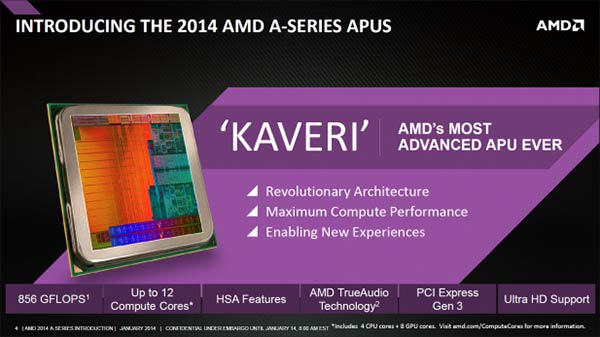 We are also told that, until the end of this month, AMD A10 APU buyers get an AMD Rewards key code to download their choice of Murdered: Soul Suspect, Thief, or Sniper Elite 3. As an alternative reward AMD offers customers the chance to buy Corel Aftershot Pro 2 for only $5, which represents a saving of around $60 off the retail price.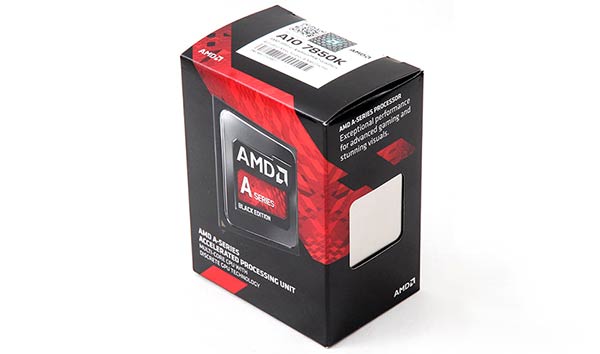 AMD's last generation APUs will also be cut in price soon, if not immediately. The Suggested Etail Pricing for these Richland chips is now as follows:
| | |
| --- | --- |
| A-series APU Model | Suggested Etail Pricing (USD) |
| A10-6800K | $112 |
| A8-6600K | $92 |
| A4-6300 | $34 |
| A4-5300 | $31 |
| A4-4000 | $27 |
So if you were already thinking of building an AMD based system using one of the above processors it looks like a good time to take the plunge. As usual it may take a little time for (r)etailers to change their prices to reflect the new AMD pricing scheme.