AMD has swung the axe and delivered a substantial price cut on its top of the range dual-Tahiti XT Radeon HD 7990 graphics card. A whole 30 per cent has been lopped off the price bring it down from $999 to $699.
The AMD Radeon HD 7990 was reviewed here on HEXUS in April. Dual-GPU cards with very similar ingredients had been put together by OEMs previously but AMD finally showed its own version several months after the first OEM 7990s appeared. To recap the AMD HD 7990 boasts two GPUs (similar to the GPU powering the HD 7970 GHz edition) running at 950MHz with 6GB of GDDR5 RAM clocked at 6GHz on a 384-bit bus.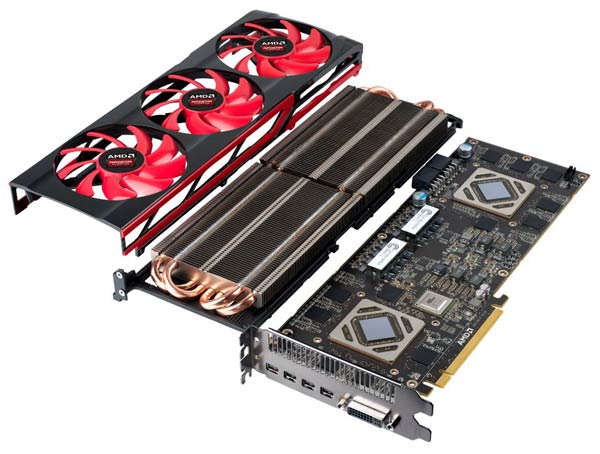 The AMD Radeon 7990 is the company's top performing single card solution and was thrust into battle at $999 against the Nvidia GeForce Titan and GeForce GTX 690 at launch time. Performance wise it sits much nearer the faster of Nvidia's contemporary top end offerings, the dual-GPU GeForce GTX 690. Read much more about these performance comparisons in the HEXUS AMD Radeon HD 7990 review.
At the new price point of US$699 AMD's graphics card may prove to be a very attractive product at the high end. It can provide exceptional 3D performance and is now just a smidgeon over the US retail price of the Nvidia GTX 780, which it bests by approximately 20 per cent on average. Also the HD 7990 comes with the biggest 'Never Settle' bundle at this time, consisting of eight titles including; TombRaider, Crysis 3, Far Cry 3, Far Cry 3 Blood Dragon, Sleeping Dogs, Hitman Absolution, Bioshock Infinite and Deus Ex Human Revolution.
Last week a major bugbear of AMD multi-GPU performance got a large injection of medicine. AMD released the Catalyst 13.8 Beta drivers which specifically addressed users' micro-stutter headaches, by providing a frame pacing, or timing, setting. At a small hit to the overall frame rate games players could experience much smoother gameplay - a much smaller delta framerate percentage while gaming. With this move and commitment to improve and now this price cut, many more people may see the AMD Radeon HD 7990 as a worthy high end gaming solution.