Japanese PC enthusiasts and gamers who choose to build their own PCs are lapping up AMD processors. PC Watch Japan reports that it has seen aggregated data via BCN, from 24 resellers such as Amazon Japan, BIC Camera, Edion and various bricks and mortar stores, that suggests AMD now has 68.6 per cent of the solus CPU market. In terms of pre-built PCs, AMD's percentage share is much less; BCN reports that the current market share for AMD in pre-built laptops and desktops is just 14.7 per cent.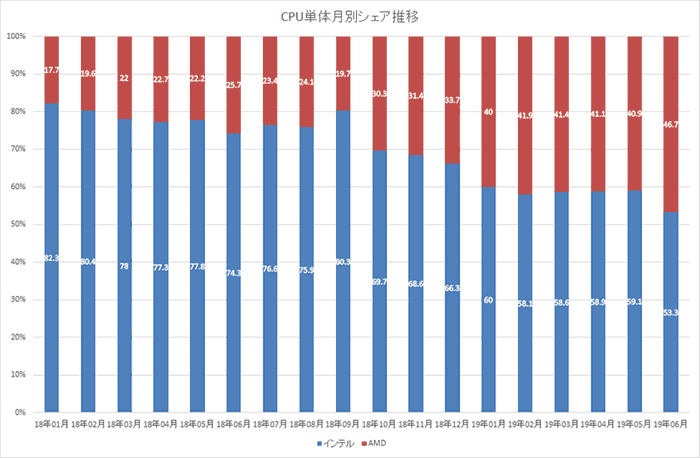 Above you can see BCN's sales data for solus AMD CPUs. Sold to users indulging in PC DIY and upgrades, there are clear positive trends for AMD here. The data in the chart runs to 19-06, which in UK calendar terms is June 2019. At that time AMD had an already formidably challenging 46.7 per cent of the PC DIY market for CPUs.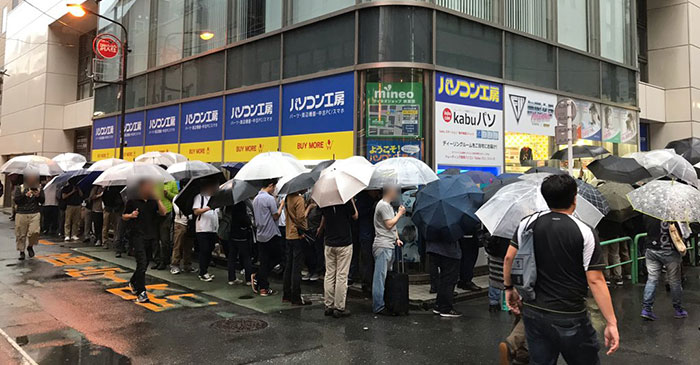 Queuing in the rain to get some Ryzens
In July, thanks to the release of the highly anticipated Ryzen 3000 desktop processors, the red wave has broken past the 50 per cent barrier. The latest available data from BCN for the period from 8th to 14th July 2019 gives AMD 68.6 per cent of unit sales in Japan. PCWatch notes that in the background is not just AMD's success in tuning the Zen microarchitecture with its Zen 2 cores, but a "lack of supply of Intel CPUs" for the DIY market. It will be interesting to see if this momentum will continue or we are seeing a short-lived peak due to the processor launch and availability (and rival part shortages).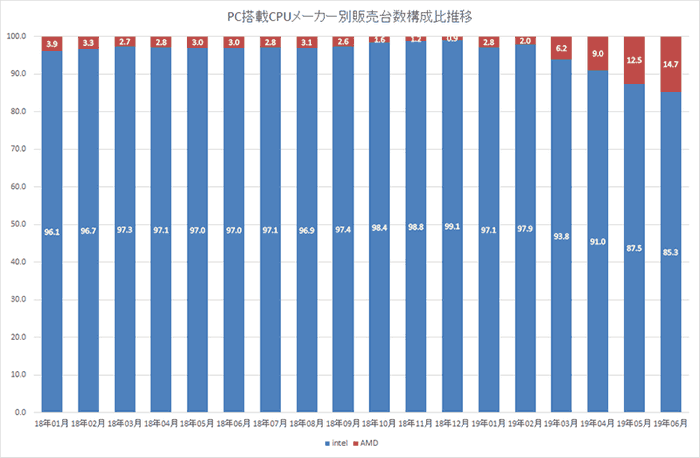 In pre-built PCs and laptops, AMD still has a long way to go to mirror its success in the DIY market. As mentioned in the intro, AMD has just 14.7 per cent of this market, but the trend is pretty clear - the necessary design-to-production delay for system integrators is one factor likely throttling red momentum. While 14.7 per cent might sound small, in December 2018 AMD's share of pre-built systems sold was under 1 per cent. Perhaps the next generation of 'Renoir' APUs, with the Zen 2 CPU microarchitecture and updated (Navi?) GPU cores will really help AMD in the pre-built market.