PC enthusiasts are still patiently waiting for the graphics card market to cool. Even in the face of the crypto-mining 'classic bubble' burst, an oversupply of GPUs, and new GPU designs scheduled for release within 3 or 4 months - we are still seeing MSRP style prices for years-old tech. Another particularly unwelcome strain on the PC builder budget is DDR4 RAM. However there are signs that RAM prices are cooling and we might see a good clear downtrend forming as we move into 2019.
Taiwan's DigiTimes reports that "recent [DRAM] capacity ramps by Micron Technology and the planned kick-off of commercial production by China-based Fujian Jin Hua Integrated Circuit and Innotron Memory could lead to oversupply for the memory in 2019". The moves of these rivals will cause memory giants Samsung Electronics and SK Hynix to change their business strategy, it is thought.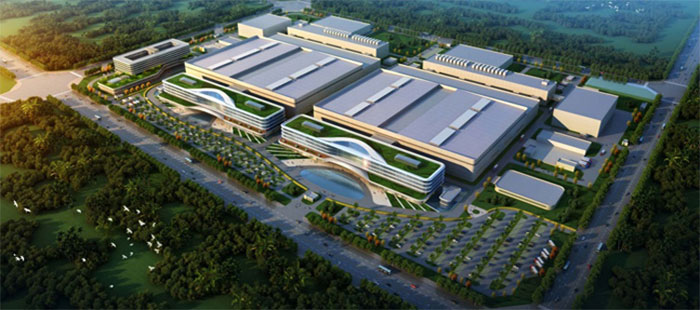 Profits from DRAM look set to slim considerably by the end of the year. The DigiTimes report says that DRAM makers are really enjoying fat margins right now. Micron has margins as high as 50 per cent in 2018, compared to 20 per cent at the end of 2016, for example.
For a quick overview of the consumer market I've checked out pricing trends for 8GB DDR4 2400MHz DIMMs on Camelx3. Looking at Corsair Vengeance LPX and more mainstream Crucial RAM with these specs reveals a good price action correlation over the last year. A year ago you could have bought either brand for £30 or less per stick. The Corsair RAM peaked at about £100 as we came into 2018, and the Crucial RAM peaked at just below £80 at around the same time. Since that time pricing has dipped a little costing £78 and £70 respectively (Amazon.co.uk prices).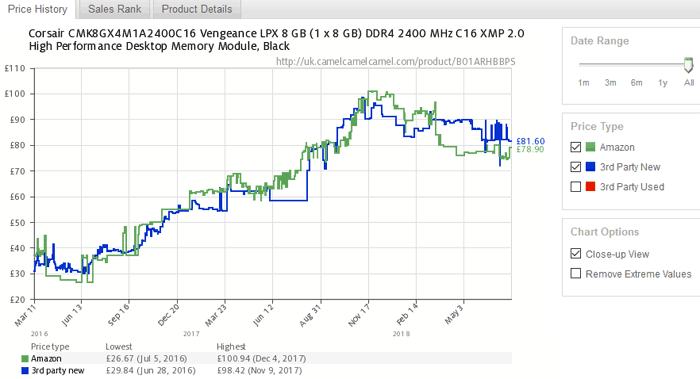 A new gaming PC will require at least 8GB of RAM to align with most AAA games' minimum requirements in 2018. Thus gamers and enthusiasts now commonly spec 16GB as a starting point - this is the recommended quota in State of Decay 2, for example. Using today's prices that will mean you have to budget approx £150 for RAM in your PC build. Compare that figure to approx £60 from a year earlier.