August saw AMD overtake Intel in CPU sales at one of Germany's leading online computer components retailers. The latest figures for market shares at MindFactory.de have AMD selling the lion's share of desktop PC processors, furthermore it is now a better revenue generator for the retailer. Reddit user ingebor published these interesting sales system charts (via NeoWin).
The first AMD Ryzen CPUs were launched in March this year. HEXUS started its review coverage with the top end Ryzen 7 1800X and quickly went on to review the Ryzen 7 1700X and 1700 in the same month. AMD started to bring Ryzen to the mainstream in April with the Ryzen 5 1500X and Ryzen 5 1600X followed by its cheapest four- and six-core Ryzen 5 1400 and Ryzen 5 1600 processors.
In May it was noted that AMD Ryzen 5 processors were the most warmly welcomed CPUs, from any vendor, in seven years. With SKUs such as the Ryzen 5 1600X very much leaders in various HEXUS bang4buck comparison tables, one could easily predict retail success should follow. According to these latest retail figures from Germany, Ryzen certainly is succeeding in this respect.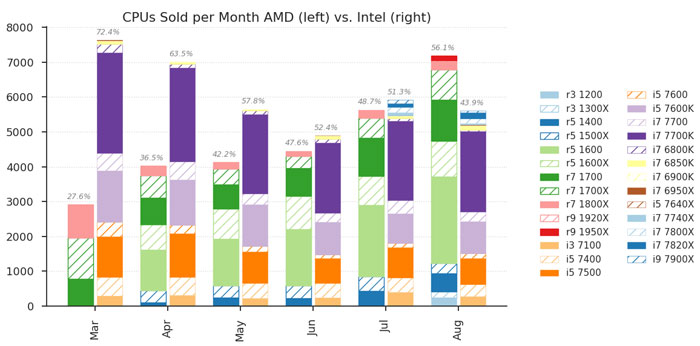 Looking at the data we have from ingebor, back in March the position for AMD was very much weaker than it is now. It was overshadowed with a 28 per cent market share of monthly CPUs sold, with of course Intel making up the rest of the numbers, 72 per cent. Revenue figures weren't quite as bad. From June onwards we can really see the tide turn in AMD's favour, we expect it coincides with supplies of Ryzen 7 and Ryzen 5 processors and associated motherboards becoming plentiful, followed by modest price cuts, and continued media coverage.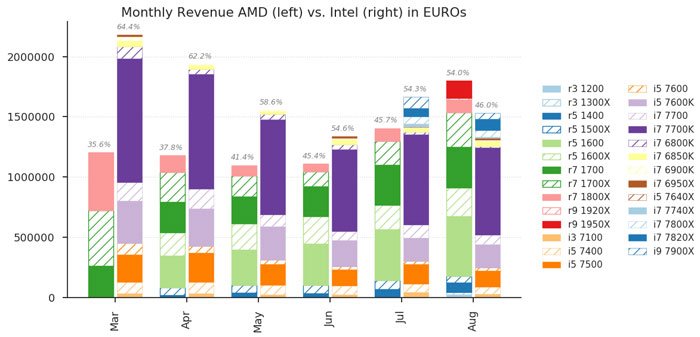 The graphs might look a bit complicated but just for an overview you can quickly see that the left side bar for a particular month corresponds to AMD Ryzen processor models, and the right side bar is for Intel Core processors. Particularly successful SKUs for AMD and Intel appear to be the Ryzen R5 1600 and Core i7-7700K respectively.
It would be great to see further updates to these graphs and some from other big retailers in the US and UK, for example.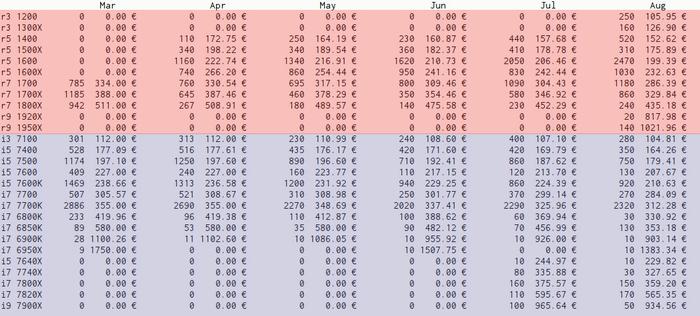 Raw SKU sales quantity / unit price / monthly from MindFactory - click to zooom in.