Nvidia has added the GeForce GTX 1060 GPU as an eligible purchase qualifying for the Prepare for Battle bundle. Previously those with an eye on this gaming software bundle would have had to splash out on an Nvidia GeForce GTX 1080 Ti, 1080, or 1070 graphics card or system. This promotion furnishes those qualifying with a free copy of either For Honor or Tom Clancy's Ghost Recon Wildlands.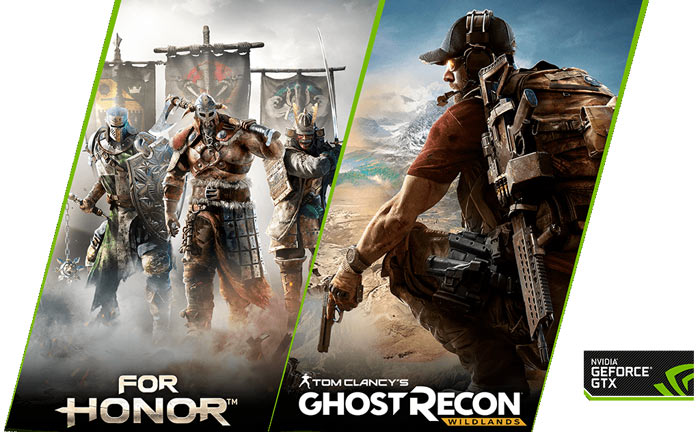 It is noted by Nvidia that the GeForce GTX 1060 is a 'Recommended GPU' for both For Honor and Tom Clancy's Ghost Recon Wildlands and "delivers an amazing 1080p experience at 60fps with high settings," as long as the rest of your PC system is up to par.
Mid range cards like the GTX 1060 usually sell in greater volume than the higher-end and halo cards, so Nvidia looks set to give out quite a few more codes going forward. There must be some business strategy behind this move (it won't be kindness…), it's likely that the GTX 1060 is looking expensive compared to its AMD rival RX 480 which has recently started to drop in price and is offered with a highly rated bundle game - the mighty DOOM.

The choice of games in Nvidia's Prepare for Battle promotion is quite diverse; in For Honor you will partake in first-person brutal melee combat as Knights, Vikings, and Samurai fight to the death on historic battlefields, in contrast Tom Clancy's Ghost Recon Wildlands is a third person military shooter (with first person aiming option) set in a massive open world setting where you take part in operations against a drugs cartel. Both games are published by Ubisoft and support a number of Nvidia GameWorks effets and technologies. For Honor and Tom Clancy's Ghost Recon Wildlands both support Nvidia Ansel for creative in-game screenshot composition.

As usual, to qualify for the Prepare for Battle promo bundle there are important terms and conditions to look out for. Please peruse the official bundle landing page (UK page) for details of how to make sure you qualify for the bundle should you be buying a GeForce GTX 1080 Ti, 1080, 1070 or 1060 graphics card, system, or laptop shortly.