AMD has just published its fourth quarter and annual 2016 financial results. The firm recorded a small operating loss during Q4. However its results were better than expected by analysts so its shares have risen in value by over 5 per cent in after hours trading.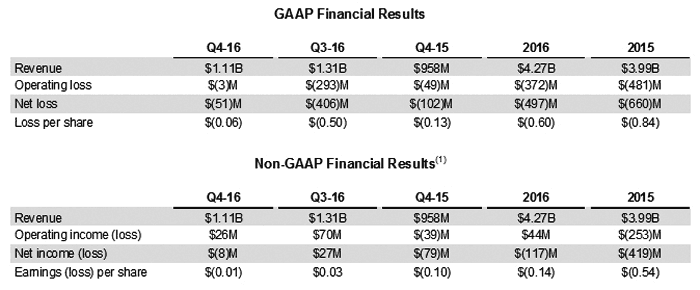 Above you can see AMD's results in clear tabular form. Revenue for Q4 2016 was $1.1 billion, with a small operating loss of $3 million. So the numbers are pretty flat and uninspiring - but as AMD fans will know, 2017 could/should be a big game changer for AMD.
In a statement accompanying the results Dr. Lisa Su, AMD president and CEO talked about AMD meeting its strategic objectives during 2016. "As we enter 2017, we are well positioned and on-track to deliver our strongest set of high-performance computing and graphics products in more than a decade," claimed the AMD CEO.
More juicy details about plans for 2017 came out in the post-results publication conference call. Venture Beat reported on the call, and it said Dr Su confirmed:
Ryzen desktop processors will ship in the current first quarter,
Zen-based data centre server processors will ship in the Q2 2017,
Laptop and embedded Zen-based chips will ship in H2 2017,
Vega graphics chips will ship in Q2 2017,
and Raven Ridge APUs should ship from H2 2017.
With the above products ready to be released in the coming year Su said "We are returning to the high end of the market, where we have not been in years." Patrick Moorhead, analyst at Moor Insights & Strategy, agreed that things look really positive for AMD in 2017, as long as the company can "flawlessly execute" its exciting looking plans.