Securing growth
Security software companies F-Secure and Kaspersky have both indicated a desire to grow their UK channels.
F-Secure has added Interactive Ideas to its portfolio of disties, hoping Interactive's strong heritage in the smaller retailer and SMB sectors will benefit it. "F-Secure is entirely channel centric and we believe that we should make it easy for resellers to get not only the products, but the support, training and other services they need," said F-Secure country manager Richard Hales.
This move coincides with the impending launch of an F-Secure UK channel roadshow. Those wishing to know more should click here. The image blow shows F-Secure distribution account manager Mike Smith (left) and Interactive Ideas marketing director Michael Breeze.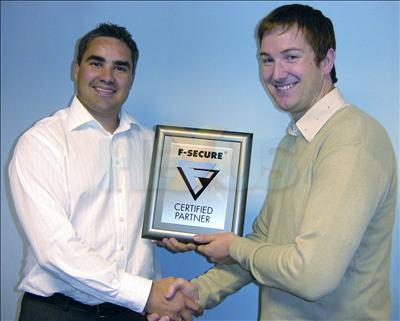 Meanwhile, Kaspersky had appointed Malcolm Tuck as UK MD, having moved his predecessor - Svetlana Ivanova - to head up its European HR.
"It is time to take Kaspersky Lab to the next level in the UK security market," said Tuck. "The launch of our multi award-winning 2009 home user technology earlier this year has generated great momentum in consumer sales. Meanwhile we are driving forward with an active programme of expansion to grow Kaspersky Lab's market share in the UK SMB and enterprise markets."
Prior to his appointment, Tuck was EMEA alliances director for security software giant Symantec.