The Grand Plan?
In the official press release confirming the replacement of Hector Ruiz as CEO of AMD (NYSE: AMD) with former number two Dirk Meyer, AMD has revealed that this move has been two years in the planning.
Robert Palmer, the lead independent director (surely not the Robert Palmer? – Ed), said: "Dirk's election to CEO is the final phase of a two-year succession plan developed and implemented jointly by AMD's board of directors and executive team."
"Dirk's extensive experience as a business leader and his notable engineering accomplishments before and during his 12 years at AMD make him ideally suited to build upon the foundation Hector created and lead AMD," added Palmer.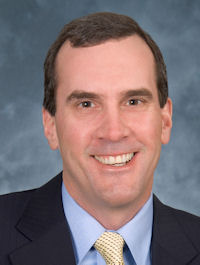 Later in the release, former CEO and now executive chairman Ruiz was full of praise for his successor. "Dirk is a gifted leader who possesses the right skills and experience to continue driving AMD and the industry forward in new, compelling directions. I am placing the company in excellent hands," he said.
Meyer himself (pictured) gave some hint about the future strategy of AMD under his leadership: "I'm tremendously excited by the opportunities ahead for AMD," he said. "As the only company that possesses expertise and leadership in both x86 microprocessor and graphics technology, AMD has a unique capability to drive the next wave of innovation through the integration of computing and graphics processors to deliver a better computing experience."