Chips aplenty
Intel Executive VP and chief sales and marketing officer, Sean Maloney, spoke to HEXUS after his keynote officially announcing Atom, its 4-series chipsets and an update on the global roll-out of WiMAX. Here he is talking to some random bloke in preparation for a TV interview.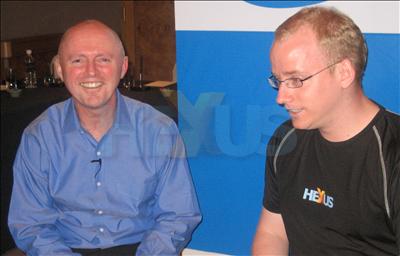 Questioned on reported short supplies of Atom processors and its latest 45nm desktop quad core CPUs, Maloney explained that, in both cases, if there was a shortage it was a product of the fact that they haven't fully completed the ramp phase of production.
He said that, also in both cases, the ramp was nearing completion, so any perceived shortages should be resolved within a matter of weeks. He also stressed Intel's policy of ensuring an even spread of availability of its products. "You've got to look after the little people too," he said.
Asked what unique offerings he thinks Atom based devices bring to the table, he isolated fully internet connected in-car devices as an exemplary usage model. "Just putting full internet access into a car will spawn a lot of applications, like real-time travel information, etc."
"Just putting full internet access into a car will spawn a lot of applications, like real-time travel information, etc."
He also pointed out that MIDs (mobile internet devices), the handheld mini PCs Intel is hoping will gain mass popularity now that Atom is available, could well end up being as much of a fashion item as a piece of technology.
In our opinion, for that to happen they will need to be cheap enough to be almost an impulse purchase and to be a viable addition to a mobile technology inventory that will often include both a laptop and a mobile phone.
On WiMAX, Maloney confirmed that there is currently a major global roll-out, but that Europe is lagging behind somewhat. When it was suggested that WiMAX seems to be taking a long time to become a reality, Maloney said: "Wi-Fi took six years and right now we're in our fifth year of WiMAX." He said that the biggest challenges concern interoperability but he expects that situation to improve in the next year or so.
Of course, the conversation couldn't end without some reference to NVIDIA. Maloney's first comment on the matter was typical of the relative restraint Intel has shown in the face of some provocative comments from the graphics giant. "The discrete graphics market will be big forever and there's plenty of room in it. We will continue to work together and compete together."
He couldn't resist a little dig, however. "What's the killer application online right now?" he asked. "I think its Macromedia Flash - which is all CPU."