We'll show 'em!
Yahoo! has issued a statement in response to Microsoft's decision to pull out of its acquisition attempt.
The first comment was from Chairman Roy Bostock. "We remain focused on maximizing shareholder value and pursuing strategic opportunities that position Yahoo! for success and leadership in its markets," he said.
"From the beginning of this process, our independent board and our management have been steadfast in our belief that Microsoft's offer undervalued the company and we are pleased that so many of our shareholders joined us in expressing that view. Yahoo! is profitable, growing, and executing well on its strategic plan to capture the large opportunities in the relatively young online advertising market."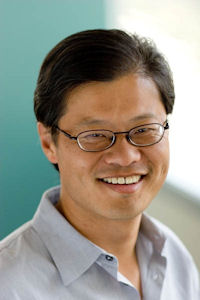 Bostock went on to list some recent progress made by the company, saying "Today, Yahoo! has:
a refined strategic focus to drive enhanced volume and yield;
reorganized to focus its efforts on its most promising products and services;
invested in innovations designed to revolutionize display advertising and facilitate closing the competitive gap in search; and
enhanced expense and resource management to support improved profitability."
CEO Jerry Yang (pictured) appeared to feel triumphant at fending-off Microsoft's advances. "I am incredibly proud of the way our team has come together over the last three months," he said. "This process has underscored our unique and valuable strategic position."
"With the distraction of Microsoft's unsolicited proposal now behind us, we will be able to focus all of our energies on executing the most important transition in our history so that we can maximize our potential to the benefit of our shareholders, employees, partners and users."
And he had better deliver on that promise. Yahoo!'s share price is currently $28.67, but was hovering around $20 before Microsoft made its bid at the end of January. If it drops back to that level when trading commences it will be a long slog to get up to Microsoft's improved offer of $33 per share.
See also: Microsoft pulls out after Yahoo! rejects improved offer