Dizzying data
Networking giant Cisco has published its Visual Networking Index, and it provides yet another illustration of how quickly the mobile Internet market is growing.
Mobile data traffic more than doubled last year and is expected to grow at a similar rate until 2015, by which time there will be 26 times more mobile data traffic than in 2010.
Here are some other fun facts:
Mobile traffic originating from tablet devices is expected to grow 205-fold from 2010 to 2015, the highest growth rate of any device category tracked.
Global mobile data traffic increased 159 percent from calendar year 2009 to calendar year 2010 to 237 petabytes per month, or the equivalent of 60 million DVDs.
Global mobile data traffic grew 4.2 times as fast as global fixed broadband data traffic in 2010.
Global mobile data traffic in 2010 was three times the size of all global Internet traffic (fixed and mobile) in the year 2000.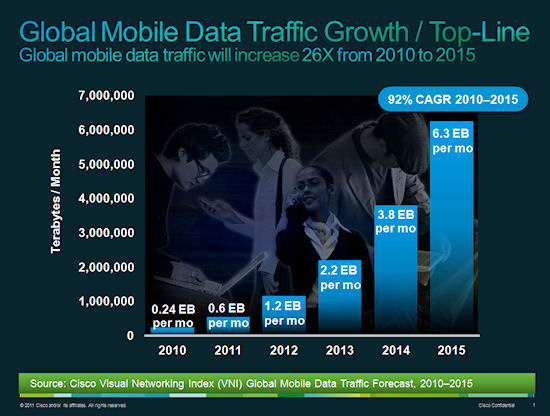 In other semi-related news, asymco has released some more of its informative charts, this time looking at the respective market shares, by volume, revenue and profit of the leading mobile phone vendors. The trend for Apple is just scary.