Specifications and Upgradeability
Such talk represents a good juncture at which to talk about the complete specifications and SKUs available from today.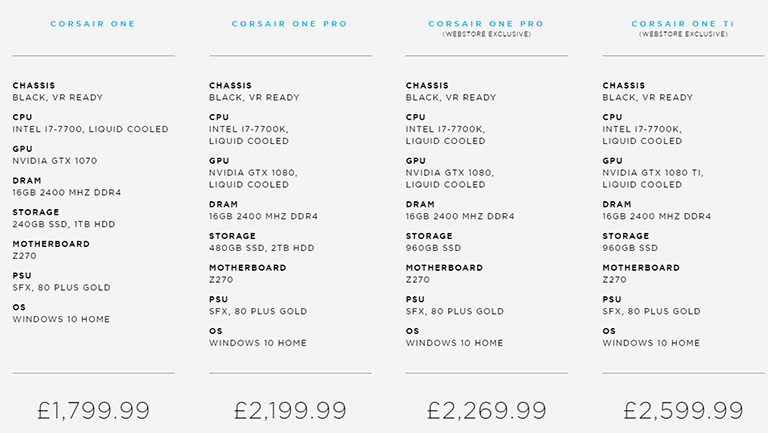 The four Corsair One SKUs all have significant commonality which extends to using the same chassis, motherboard, power supply, memory, warranty, and Windows 10 operating system.
A base specification (£1,799) calls for an air-cooled GeForce GTX 1070 alongside a Core i7-7700 (non-K) chip and 240GB Force LE 2.5in SSD supported by a 1TB 2.5in mechanical drive. A mid SKU, the Pro (£2,199), ups the ante to a stock-clocked Core i7-7700K and mates it with the aforementioned, watercooled GTX 1080 and a 480GB SSD and 2TB HDD combination, while the third (£2,269), only available directly from Corsair, overclocks the CPU to 4.5GHz and adds in a 960GB SSD but removes the mechanical hard drive.
The champion product, brought in at the last minute, features a liquid-cooled GTX 1080 Ti, offered with a £330 price premium over the GTX 1080 Ti. £2,599 is the asking price for gaming dominance.
Our Corsair One is the Pro variant whose GTX 1080 watercooled GPU runs at 1,607MHz base and 1,734MHz boost along with memory at 10,000MHz. The frequencies are, somewhat disappointingly, at stock speeds.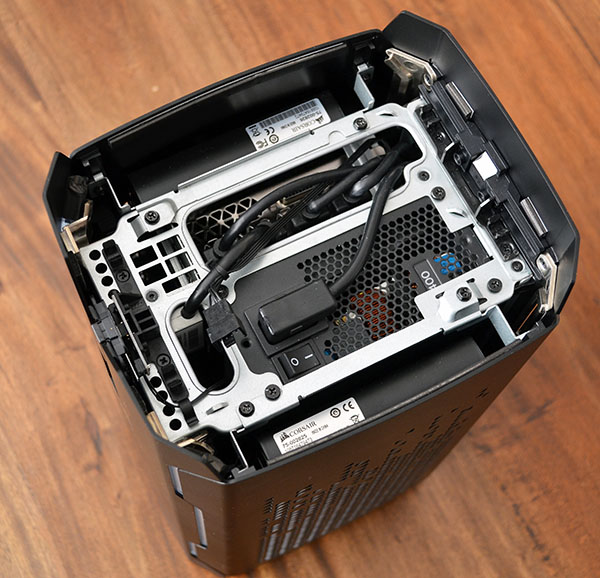 Getting inside requires pressing the button on the back and lifting the top fan section out of the way. The build is intricate, and it takes a while to remove all the various holding screws to access each component. Corsair markets the One as easily expandable, but we'd only recommend those who have previous system-building experience to take it apart and, for example, upgrade the GPU or CPU.
And this being a turnkey system backed by a two-year warranty that is invalidated as soon as you start meddling with the insides, there's good reason for most not to tinker with the One.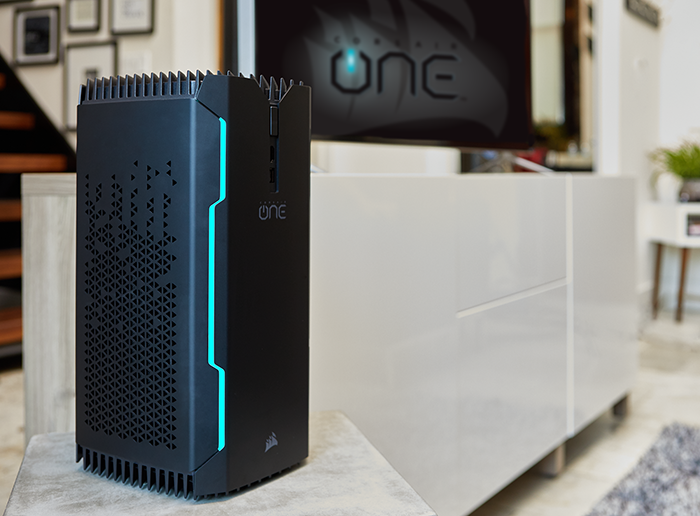 There's a clean build of Windows 10. Corsair adds in-house Link capability that serves to monitor the vitals. On that note, there's also installed diagnostics useful for novice users. Handily, appreciating its gaming nature, Corsair adds shortcuts to the various online gaming portals, too.
With that out of the way, it's high time to see how it performs.