Specifications and initial thoughts
| | |
| --- | --- |
| Model | TWIN2X2048-8888C4DF |
| Modules | 2x CM2X1024-8888C4D (1GiB each) |
| SPD setting | JEDEC standard, 800MHz 5-5-5-18 |
| EPP setting | Tested at 1111MHz 4-4-4-12-2T, 2.4V |
| Cooling | Dual-patch Heat Exchange heatsinks + Dominator Airflow |
| Warranty | Lifetime warranty |
| Expected retail pricing | £300-£350 |
When we first reported on Corsair's Dominator PC2-8888 modules, we suggested pricing here in the UK would be between £400 and £500. Our pricing in the above table is based loosely around Corsair's estimated pricing in US Dollars. We reckon the PC2-8888 modules will be towards the upper bound, if not higher, but ultimately, we'll have to wait and see what e-tailers do.
Corsair tests all of its PC2-8888 Dominator modules in pairs to verify they'll run at 1111MHz. However, this doesn't guarantee that they'll run at that in any system. You'll see the fun we had with EPP in due course, mostly thanks to CPU multipliers. The Dominator product line is high performance enthusiast kit and so to get the most out of them, you'll have to be prepared to put some effort in.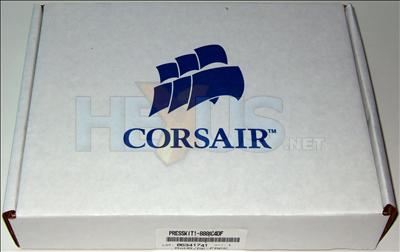 Here is is, 'PRESSKIT1'; you don't get much fresher than that. There's quite a bit of ground for us to cover in this review, so we'll make a start.