TFX with high efficiency
Think of a power-supply unit (PSU) and, chances are, the rectangular ATX form factor, measuring 150mm (W) x 86mm (H) x 140mm (D), springs to mind. Larger-capacity models often increase the depth to accommodate a greater number of internal components, up to 210mm in some cases, but they fit into most enthusiast chassis just fine.
However, the PC industry has made a concerted effort to reimagine the desktop box into a smaller, sleeker package. Helping this ideal along are smaller-form-factor PSUs that are otherwise identical to their ATX cousins. Here's a list of common form factors in production today.
Common desktop PSU form factors

Width (mm)

Depth (mm)

Height (mm)

ATX

150

140

86

SFX

125

100

51.5

Flex ATX

81.5

150

40.5

TFX

85

175

65
The choice of chassis predicates PSU usage, but going smaller usually means a curtailing of maximum capacity - smaller supplies have less cooling potential and, intrinsically, less room for components - and an increase in price over the same-capacity ATX.
Let's take the Thin Form Factor (TFX) as an example. It is thinner but longer than traditional ATX. Overall chassis volume is just over half that of ATX and, as such, most TFX supplies feature a side-mounted fan, usually 80mm in size, that's thermostatically controlled.
Conforming to the same standards as ATX and using the same core connectors, TFX makes clear sense in reduced-size chassis, but, and it's a big one, there aren't too many TFX-specific cases available to buy. Compatible chassis tend to have TFX PSUs pre-installed.
Yet catering for this small segment of the market is German manufacturer be quiet!, who has upgraded its TFX line-up with two new supplies: the TFX Power 2 80 PLUS Bronze 300W (£45) and higher-efficiency TFX Power 2 80 PLUS Gold 300W (£55). A continuous 300W capacity is more than enough to power a mainstream build. For example, an Intel Core i7-4770K system with GeForce GTX 750 Ti graphics card pulls a mere 99W at the wall.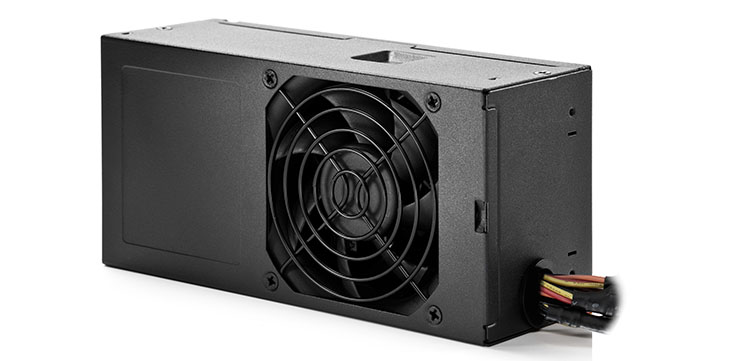 Here's the TFX Power 2 Gold. The 80mm fan is almost as wide as the unit itself. Build quality is up to be quiet!'s usual high standards, with no squeaks or rattles from the metal chassis.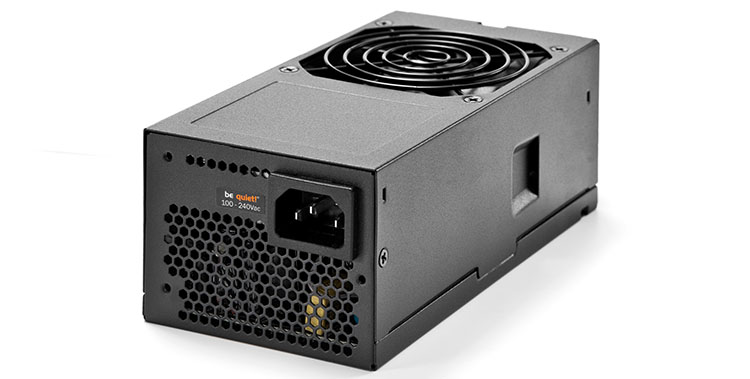 A high efficiency rating is a good thing for a small-form-factor PSU because you don't want any excess heat in a tiny chassis. Run off a 230V AC source, this supply needs to be at least 88 per cent efficient across wide loads - 20 per cent to 100 per cent - and at least 92 per cent at a mid-capacity load. This means that less than 15W is lost when the PC is pulling 150W DC.
Attached cables needn't be as long as a standard ATX supply's. The main 24-pin connector measures 350mm, as does a single 12V P4 connector. Three SATA, a couple of Molex HDD and a single FDD measure between 350mm and 500mm. There is no PCIe connector as standard, though be quiet! includes a dual-Molex-to-PCIe in the bundle.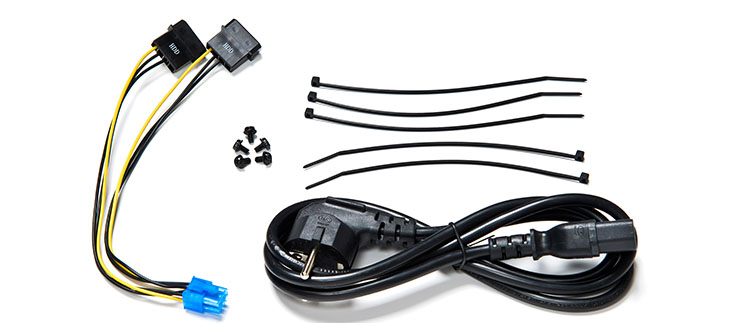 The six-pin PCIe is enough to power a discrete card using up to 75W above what the motherboard slot provides, so there's little reason to have a second for a PC driven by a TFX supply.
Amps/watts and voltage

3.3V

5V

12V1

12V1

-12V

5VSB

Rail amps

18A

18A

13A

13A

0.3A

3A

Maximum rating

103W

288W (24A)

3.6W

15W

Maximum rating continuous

300W (330W peak)
It's now fashionable to have a single 12V rail providing the current for the CPU and graphics card(s). be quiet!, meanwhile, splits this into two lines that can each handle 13A or, cumulatively, 24A. The majority of the PSU's current can be shunted down for the CPU, motherboard and graphics. Backed by a two-year warranty, let's now examine how it performs.