A peek inside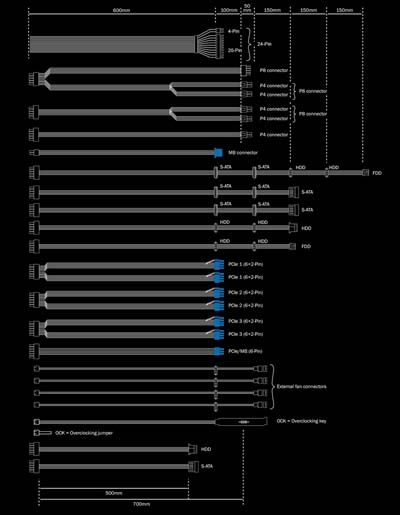 The cacophony of cabling serpents is almost too much to list, so take a look to the right to see exactly what you get.
Let's pick out a few highlights. All cables bar a single Molex and SATA are at least 60cm in length. There are three dedicated cables for graphics - 6+2-pin - adding up to six plugs, plus a single 6-pin by way of another cable.
Plenty of storage is available through nine SATA plugs. A hallmark of modern be quiet! PSUs is the provision for fan-headers that drive system fans without the need to trouble the motherboard's on-board headers; the fans' speed is regulated by an on-PCB sensor within the PSU. Being picky, flatter cables, as supplied by some of the competition, tend to make for a tidier built.
And in common with the 650W model that we reviewed a short while ago, the package includes an overclocking key that switches the supply from its as-shipping four-rail 12V topology to a single 12V rail.
Folk who can't be bothered to install the bracket can also use the in-box jumper and achieve the same toggling effect. For what it's worth, the PSU has a native four-rail architecture.
The unit is certified for both NVIDIA SLI and AMD CrossFireX multi-GPU usage, and with a choice of 32 connectors, esoteric builds should be no problem. Measuring 190mm (l) x 150mm (w) x 86mm (h), it's 10mm longer than the 650W version. The size is compact enough to fit into practically all chassis.
Amps/watts and voltage
3.3V
5V
12V1
12V2
12V3
12V4
-12V
-5VSB
Rail amps
25A
25A
30A
30A
35A
35A
0.5A
3A
Maximum rating
140W

840W

6W
15W
Maximum rating continuous

850W
Ratings-wise, the four 12V rails have plenty of juice on them. Combine them and 70A (840W) can be delivered to the components. Remember, the 12V power-delivery system is up to you; it can be either four separate rails or a single rail with, potentially, 70A running through it.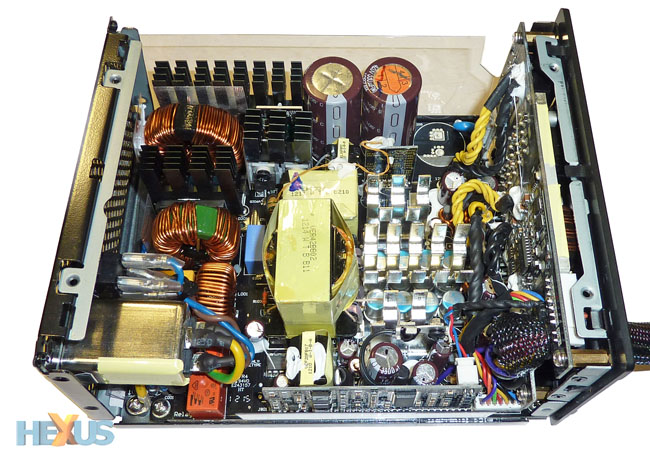 Seasonic's full-bridge PSU architecture comes into play on the 850W-plus supplies. Full-bridge, in this sense, means using four MOSFETs, rather than two, for creating the high frequency AC current that is then rectified and sent over and stored in the main capacitors. The 850W unit has two Nippon Chemi-Con rated at 420V and 3900uF (at up to 105°C). It's reasonable to assume that the 1,000W and 1,200W DPP 10s contain a third capacitor, due to their higher wattage requirement.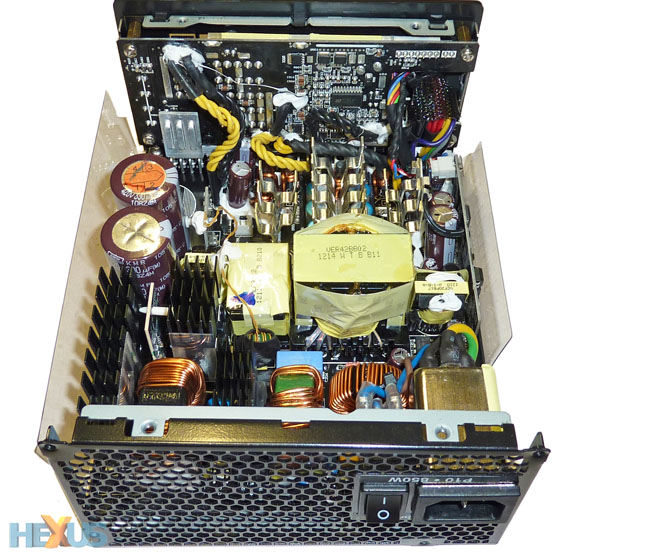 The internal layout is a derivation of a Seasonic Platinum 860W supply that was first made available at the turn of the year. be quiet! adds a bunch of heatsinks, uses a customised PCB and has a different fan configuration. A SilentWings P10 135mm fan (BQT T1325-XF20) is tuned to spin at a maximum 2,000rpm. According to be quiet!, however, it runs at around 660rpm for loads between 10 per cent and 90 per cent, increasing to 900rpm at 100 per cent.
Competitors, including Seasonic's base design, implement a hybrid mode, where the fan remains switched off until either load reaches 30 per cent or internal temperature jumps past 25°C. Knowing that the be quiet! is spinning at just 660rpm for the majority of load scenarios means we're not overly concerned about a non-hybrid mode on this supply.
Equipped with a wide range of connectors, presented beautifully, and taking advantage of Seasonic's latest PSU thinking, initial impressions are good. Let's now see how it stacks up.