Software and Summary
Practically every gaming keyboard functions just fine as a plug-and-play solution, but an additional software utility tends to be required in order to make use of the complete feature set. Tesoro offers an independent utility for each of its relevant products - as opposed to an overriding app for all of its peripherals - and the lightweight Gram Spectrum package weighs in at just over 15MB.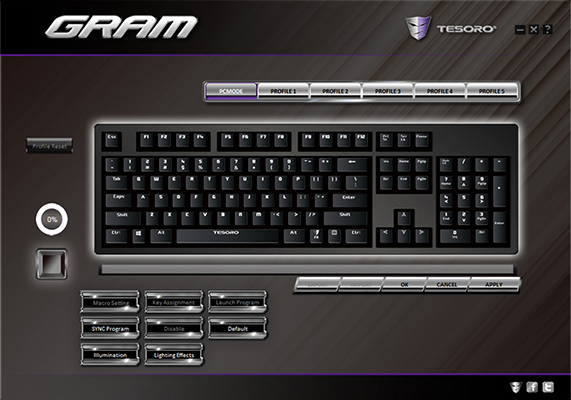 Offering a relatively basic array of features and customisation options, the software offers up to five profiles and is based around an interactive image of the keyboard that lets you choose a key and configure it accordingly. Most keys can be used to launch a user-specified .exe, trigger a recorded macro or be reassigned entirely, and any such tweaks are saved to the 512KB of onboard memory.
Tesoro has most of the essentials covered, yet many of these features need to be expanded in order to put the software in line with what's available from the competition. Keys can't yet be reassigned to Windows shortcuts or multimedia functions, the macro recorder doesn't include mouse clicks, and firmware updates are carried out via a separate download rather than from within the app.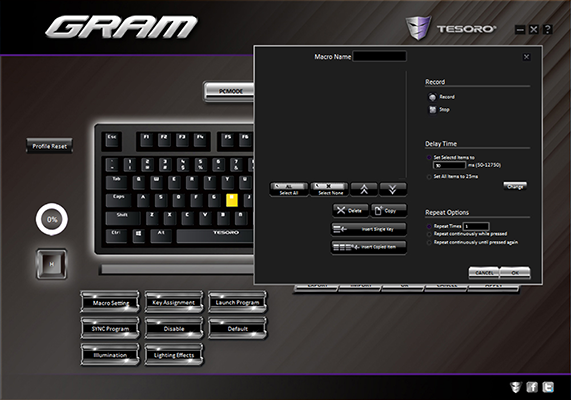 There's certainly room for improvement on the software front, and in addition to adding extra features, we'd like to see Tesoro reduce the number of graphics and focus more on usability. As it is, the buttons all look fancy, yet as is the case with many gamer-oriented UIs, the text labels are small and awkward to read amid plenty of unused space.
Summary
Not ideal for long typing sessions and too loud for our liking, yet when gaming, the low-profile keys do feel fast and responsive.

Gram Spectrum's claim to fame rests with it being the first mechanical keyboard to employ Kaihua Kailh Agile key switches, so how does the mechanism fare during everyday use?

The answers are mixed. Our review sample arrived with blue, clicky switches (linear red is the other option) and it took some time to adjust to the low-profile layout. There's very little travel prior to the actuation point, and the keys do feel quite stiff, requiring a higher force and increasing the feeling of fatigue.

Not ideal for long typing sessions and too loud for our liking, yet when gaming, the low-profile keys do feel fast and responsive. Technically, we imagine the shorter actuation point is measurably quicker, yet the change is so small you'd do well to notice any perceivable speed advantage between the Gram Spectrum and most other mechanical keyboards during real-world use.

Have we reached a point at which only die-hard enthusiasts will be able to distinguish between similar switches from different brands? Perhaps so, and with multiple manufacturers now able to dole out keyboards that feel familiar, it's becoming increasingly important to differentiate in areas such as appearance, software, warranty and price. Gram Spectrum scores well in the looks department, but there's room for improvement in the software, while the one-year warranty and $150 price tag prevent the keyboard from standing out from the crowd.

The Good

The Bad

Sleek design and robust build quality
Agile key switch well suited to gaming
Onboard memory for multiple profiles
Bright and even RGB illumination

Software has room for improvement
No dedicated multimedia keys
Keycap font an acquired taste




Tesoro Gram Spectrum




HEXUS.where2buy

The Tesoro Gram Spectrum mechanical gaming keyboard is available to purchase from Amazon US. UK availability is expected in Q4 2016.

HEXUS.right2reply

At HEXUS, we invite the companies whose products we test to comment on our articles. If any company representatives for the products reviewed choose to respond, we'll publish their commentary here verbatim.