Introduction
A surge in popularity of mechanical keyboards has seen plenty of gamers make the transition in favour of extended travel and precise actuation. Some would say that once you get accustomed to mechanical key switches, you'll wonder how you ever went without, but there is a counter argument. Mechanical keyboards are typically large, bulky affairs that don't lend themselves to a sleek, uncluttered desk.
The HyperX Alloy Elite RGB, for example, can be deemed stylish for a mechanical gaming keyboard, but it's still a sizeable piece of kit and isn't as refined as, say, a Microsoft Surface Keyboard. Is it possible to combine the key action of the former with the style of the latter? Tesoro reckons it has the answer to this admittedly niche predicament with the Gram XS.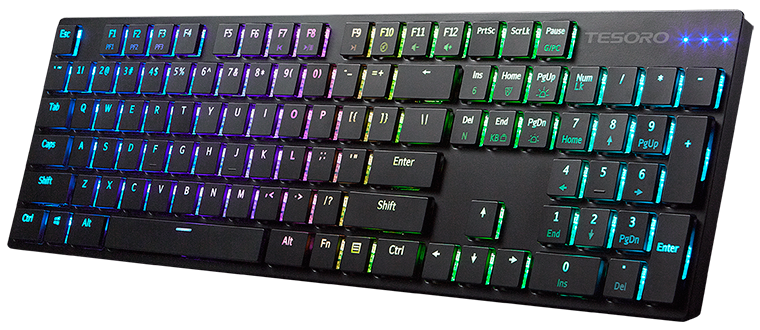 If the keyboard looks familiar, it is because Tesoro's concept has been doing the rounds at various trade shows for quite some time, and the road to retail has been long and windy. Now officially dubbed Gram XS and available from the Tesoro Store for a cool $120 with UK availability coming soon, the question we need to ask is: has it been worth the wait?
On paper, the appeal is clear to see. For those who work by day and game by night, it'd be nice to have a sleek keyboard that looks tidy, doesn't take up the whole desk and has the mechanical switches you want during battle. But creating such a solution evidently isn't easy. Tesoro's early concepts were super-thin, but the final retail product has swelled to 24mm in height. That's hardly fat, mind, and the options for a slim mechanical keyboard are few and far between.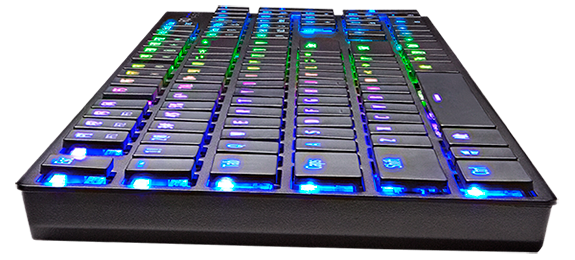 Gram XS comes in a choice of black or white colour schemes, both of which are attractive, with a metal top plate providing plenty of rigidity and a plastic base that is tapered toward the back offers a slight incline. Rubber feet keep the board well planted, but there's no option to raise or lower the angle to your preferred height, and the design purists out there may lament the fact that the top metal plate doesn't wrap around the sides to create a more seamless finish.
Personally I quite like the aesthetic, though there are a couple of design decisions I find curious. Given the goal of creating a sleek, space-saving solution, might a tenkeyless form factor have been preferable? And if you're aiming to be free of clutter, you may be disappointed to learn that Gram XS is a wired solution. A braided 1.8m detachable USB 2.0 cable connects to a micro-USB port along the top-right edge, and we suspect it's only a matter of time before a wireless, tenkeyless model becomes available. The Gram XXS, perhaps?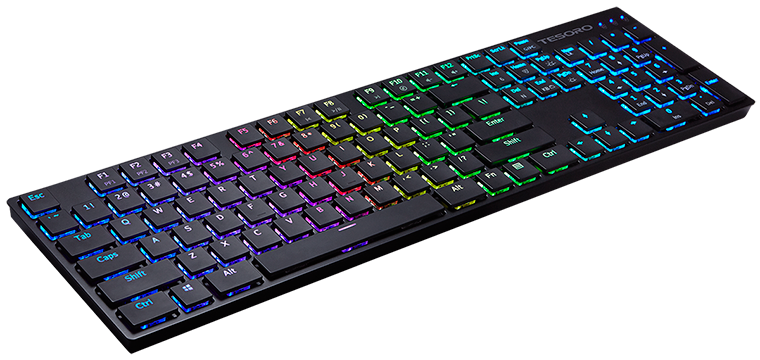 Still, this has to be one of the tidiest mechanical keyboards on the market today. The gap between the keys and top plate gives the RGB LEDs extra wow factor, the translucent keycap font is crisp and inoffensive, and dimensions of 450mm x 127mm x 24mm are suitably svelte. A weight of 800g helps keep the keyboard planted, though do be aware it's a tad heavy if you're eyeing it up as a handheld solution, and if you're migrating from a full-fat alternative, don't expect any extras such as a palm rest, USB passthrough or dedicated multimedia keys.
What Tesoro does offer is all the core benefits of a mechanical design, including n-key rollover (meaning full key-bashing potential with no chance of ghosting), 1,000Hz polling rate, a reliable ARM Cortex processor and onboard memory for storing up to three customised profiles. Shortcuts to each profile are available via the F1-F3 keys, F7-F12 provide multimedia shortcuts, and Fn+Pause toggles game mode on and off.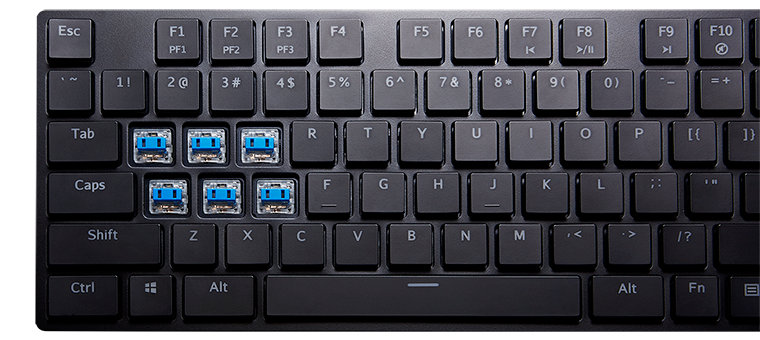 But let's cut to the chase; how do Tesoro's Slim switches actually work? Manufactured by TTC, the four-part construction sees the low-profile switch topped with the sort of chiclet keycap you'd expect to find on a laptop. Travel distance is specified at 3mm (1mm shorter than a regular Cherry MX Red) and Tesoro offers a choice of clicky blue or linear red variants. Both actuate at 1.1mm but the red is naturally quieter and each presents a unique operating force; blue is the slightly lighter choice at 40g, while red requires 45g to respond.
Tesoro has done well to convey the feel of a full-size mechanical key in a far smaller profile, however there are compromises. The chiclet-style keycaps feel relatively lightweight and do exhibit a bit of wobble that you tend not to notice after a while, but there is a bit of an adjustment period as the keys sink almost fully into their holes - the effect of this is felt when you press the spacebar, as your thumb tends to hit the surrounding plate at the same time. These minor niggles aside, Gram XS does achieve a successful marriage of chiclet keycap and mechanical switch.