Mionix is a relative newcomer when it comes to PC peripherals but is making a name for itself by releasing some of the most comfortable mice around. A case in point is the Naos 7000, which offer great design and comfort in equal measure. But there's a better Naos rodent out there; the 8200, priced at £60, that promises higher DPI coverage via an upgraded laser sensor.
Look and feel
Seem familiar? It should, because Mionix keeps the same sculpted profile seen on the Naos 5000 and Naos 7000 models. Built for right-handed folk, the wide central section flares out on that side, ostensibly for resting the fourth finger. Lefties, such as yours truly, rest their thumb on the same section and cannot access the buttons on the left-hand side easily. Interested in this mouse? You had better be a righty; lefties should look towards the Avior 8200 instead.
But if you are a righty things look up. The Naos 8200 is very, very comfortable to hold, made possible by a lovely soft-touch covering and well-thought-out palm-grip design. It's more suited to bigger hands, mind, as it can be a tad difficult to pick up if you have smaller mitts. Seven programmable buttons - left, right, two on the side, two on the top, scroll - are all easy to get to and have a smooth action. Running off the front is a 2m braided cable.
Mionix Naos 8200

Sensor

ADNS-9800 laser

DPI

up to 8,200

Processor

32-bit ARM @ 72MHz

Ergonomics

Right handed, full palm grip

Buttons

7

DPI Adjustment

3-step

Built-in Memory

128KB

Polling Rate

up to 1,000Hz

Dimensions (mm)

130.8 x 84.7 x 38.7

Weight (w/o cable)

99g
The left-side buttons sit above another sculpted area for the thumb. Just in front of those is a three-step DPI indicator, visually representing the DPI changes affected by the two buttons close the wheel. There's further illumination for the logo on the rear and buttons up top. All in all, this is one attractive mouse.
The feel of a mouse is a very personal and subjective judgement. Echoing what we've said before, the Naos line feels a little light and hollow compared to other mice, and the lack of weight adjustment seems like a strange omission for a top-of-the-line rodent. Still, what doesn't work for us may work for you.
Powering the Naos 8200 is an ARM processor coupled to the Avago 9800 laser sensor present in a bunch of top-end mice. Now free from the hardware acceleration issues plaguing the initial raft of 9800 mice, it is the go-to choice for smooth performance and super-high DPI. Our choice for gaming would remain an optical sensor, as found on the Naos 7000.
Software
Mice are very much plug-and-play devices yet premium models have enough features to warrant additional software.
Mionix's downloadable package enables you to choose a multitude of options, from polling rates, DPI rating (in 200DPI increments), illumination colours and macros. The full changes are stored in one of five profiles loaded on to the 8200's onboard memory. Using the SQAT tool, there's even an option to benchmark the quality of surface. The Naos 8200 tracks surprisingly well on almost every surface we tried.
It's a shame that profiles cannot be linked to games, as some allow, so you need to remember to load up a particular configuration for, say, Battlefield 4 or Crysis 3. The software would very occasionally crash when too many parameters were changed in short order, meaning that profiles would sometimes need to be re-entered.
In use
A need for an 8,200DPI sensor is questionable in most games as it feels too jumpy for all but the most precise of movements. Dropping it back down to 5,000DPI makes for a better gaming experience. The Naos 8200 tracks very smoothly and, due to the Teflon-coated feet, is remarkably easy to glide around a mouse mat.

Button pressure activating the Omron switches is a touch lighter than rival mice and the central wheel feels lighter and easier to click than some; some like this, some don't,

We come away with the impression that the Mionix 8200 is very good from a hardware point of view. Top-class construction and looks are married to smooth, predictable performance in games. It's great to hold for users with average- or large-sized hands and the soft-touch finish is just lovely. The software, whilst reasonably comprehensive, needs a polish to rival what's on offer from the likes of Razer.

But you'll be holding the Naos 8200 far more than tweaking the settings. In that regard, it can be recommended for the enthusiast.

The Good

Very, very comfortable
Precise, jitter-free movements
Customisable via software
Top-class construction

The Bad

Software can be buggy
Not suitable for lefties
HEXUS.awards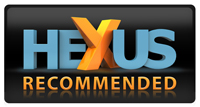 Mionix Naos 8200
HEXUS.where2buy
The Mionix Naos 8200 is available from Amazon.com.
HEXUS.right2reply
At HEXUS, we invite the companies whose products we test to comment on our articles. If any company representatives for the products reviewed choose to respond, we'll publish their commentary here verbatim.