Swedish company Mionix has announced its latest gaming mouse, the Naos QG (Quantified Gaming) mouse. The headline grabbing thing about this gaming mouse is it's built in biometic sensors which allow you to monitor your vital signs, via an in-game overlay. We first saw the Naos QG demonstrated back at the CES 2015, so it's good that it will finally be released next month.
The new Mionix Naos QG was built in collaboration with Kickstarter and the Twitch streaming community. Using the biometric readout overlay you can uniquely "stream your cool," suggests Mionix.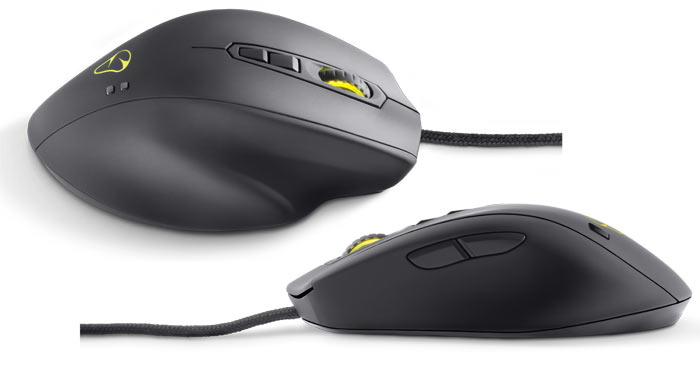 Behind the biometric functionality are sensors that measure your Heart Rate and Galvanic Skin Response. If you run the in-game visualization overlay software you will be able to see a numerical BPM heart rate read out plus visual pulse and GSR (Galvanic Skin Response) charts. Further mouse data can be gathered for monitoring purposes in the Mionix Hub; clicks via the mouse buttons, and movement speeds and distances via the mouse tracking sensor.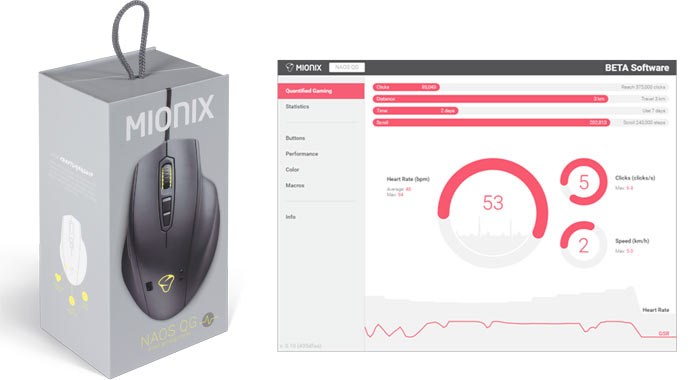 Open APIs are downloadable for developers to create their own applications or mods for the Naos QG.
The following sensors are used for biometric specific monitoring:
Heart Rate Sensor: Pixart PAH8001EI‐2G, up to 3000 fps, 6.8Mhz
Galvanic Skin Response Sensor: TiN coated copper electrodes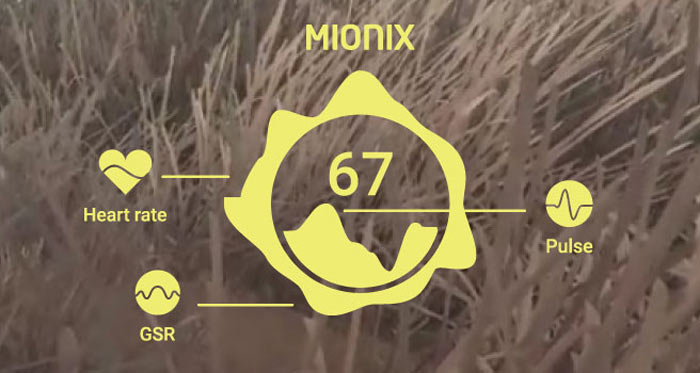 Other, more traditional, mouse specifications of the Mionix Naos QG are as follows:
12000 native DPI optical sensor (Pixart PMW-3360)
Omron L/R click switches
1ms Response Time, 1000Hz Polling Rate
32bit ARM Cortex M3 processor operating at 32Mhz
128kB built in memory to store settings in up to 5 profiles
Angle Tuning: adjustment of X/Y rotation angle to counter hand sweep angle and improve accuracy
Angle Snapping
7 fully programmable buttons
In-game 5 step DPI adjustment
Customizable LED lighting system with lighting effects and up to 16.8 Million colour options (2x zones)
Large PTFE feet
Gold plated, full speed USB 2.0, 2m long braided cable
Four layers of dark grey rubber coating ensures maximum grip and natural touch and feel
Right handed ergonomic palm grip
Weight: 152g
The Mionix Naos QG will become available worldwide starting from 28th October, but you can pre-order if you wish. This product is being showcased at TwitchCon, San Diego from 30th Sept to 2nd Oct. Naos QG pricing is US $129 / Europe €129 and buyers receive a 2-year warranty (1-year in the US and Asia).