Think of a keyboard manufacturer and XEBEC tech may not be the first name on your lips. The company specialises in wireless keyboards aimed primarily at folk who use home theatre PCs (HTPC), and its itouchpad diamond keyboards have been getting some attention of late.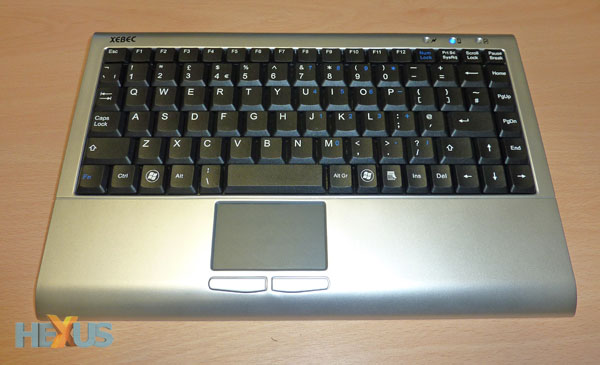 Available in black, white and silver (pictured) and priced at £35, the diamond looks much like a laptop keyboard that's been prized away from the chassis. Built from plastic and weighing 570g, it uses 2.4GHz radio technology, through USB, to provide connection at a distance of up to 10m. Build quality is surprisingly good, with no flexes with heavy-fingered typing, and such is the size that it sits nicely on your lap.
Controlling a media-based PC (or Mac) means that a trackpad - which, though not multi-touch, is reasonably sensitive and accurate - is a necessary addition, though the off-centre location can be problematic for touch-typists who, like yours truly, rest their thumbs just below the space bar. Bear in mind that regulating the sensitivity and deactivation of the touchpad aren't supported on the diamond.
The 89 keys are shoehorned into a chassis that's just over 30cm wide. As such there's no dedicated number-pad, which is acceptable, but the smaller-than-normal space bar and backspace keys take getting used to, as do the keys themselves: they're quite firm and need a good press to actuate.
We'd recommend XEBEC compromise the form factor and release a standard-sized keyboard with the trackpad on the right-hand side and dedicate multimedia buttons on top, much akin to, say, a Logitech K400.
Three LEDs indicate recharge, battery and usage status, but XEBEC could do with a couple more to denote whether the number of caps lock buttons are active, because there's no way of knowing otherwise. The keyboard goes into a sleep mode if not used for 30 minutes, to conserve the batteries, but a mere press of a key or movement on the trackpad wakes it back up again.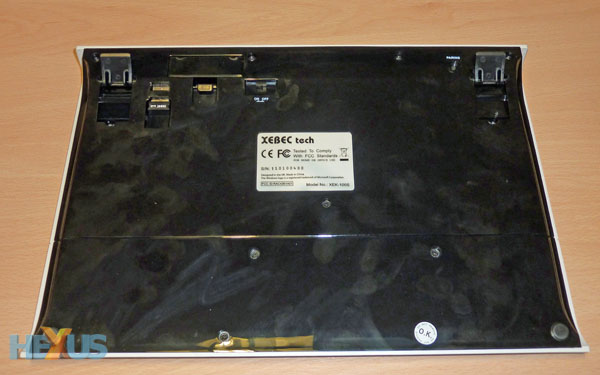 Yup, it picks up fingerprints very easily
Flick it over and the curved nature of the chassis becomes apparent, and two feet can be engaged if the default setup isn't to your liking. The diamond is powered by either two bundled AAA batteries or via a mini-USB connection (cable provided) which also serves to recharge suitable batteries. Handily placed by the left-hand foot is the small USB receiver that plugs into the computer or console.
Setup is wonderfully easy: simply plug in the USB receiver and the keyboard is ready to go, and simplicity is one of the XEBEC's strong points. We believe that if you want a small keyboard to rest on your lap while surfing the 'net on your TV or want to watch a movie from bed, it's not a bad bet, but we'd recommend XEBEC includes a few multimedia keys and a better arrangement for the space bar and backspace keys.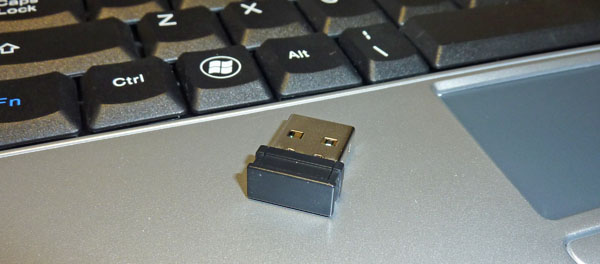 Ostensibly aimed at the HTPC or business user who wants a no-nonsense wireless keyboard and trackpad in a small form factor, XEBEC tech's diamond could do with a few refinements if it's to challenge the best in the industry.
The Good
Looks and feels good
Super-easy to setup and use
The Bad
Key arrangement isn't ideal
Trackpad can get in the way
'Missing' multimedia keys
HEXUS Rating

XEBEC tech itouchpad diamond
HEXUS Where2Buy
The reviewed XEBEC tech keyboard is available to purchase from SCAN.co.uk*.
HEXUS Right2Reply
At HEXUS, we invite the companies whose products we test to comment on our articles. If any company representatives for the products reviewed choose to respond, we'll publish their commentary here verbatim.
*As always, UK-based HEXUS.community forum members will benefit from the SCAN2HEXUS Free Shipping initiative, which will save you a further few pounds plus also top-notch, priority customer service and technical support backed up by the SCANcare@HEXUSforum.