Sound specialist 1More caters for the audio market by retailing a number of over-ear and in-ear headphones. Running from 15 bucks all the way through to a couple of hundred, there's something for everyone.
No range is complete without a pair equipped with some form of active noise-cancelling technology. 1More primarily takes this challenge up with the in-ear set dubbed the Dual Driver BT ANC, retailing for about £100. There's actually another model, known as Triple Driver, carrying two balanced armatures and a dynamic driver, yet that costs a chunk more.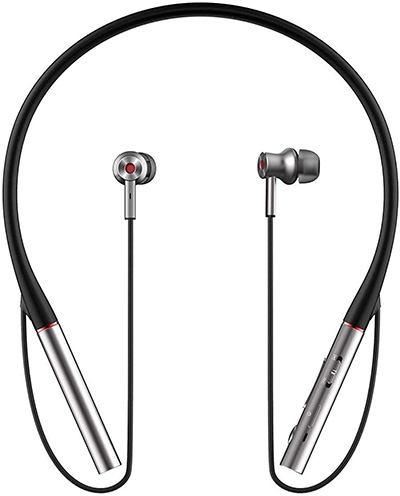 Coming back to the review model, the design language is familiar to others in the 1More range. That translates to a two-tone finish - gunmetal silver and dark grey - with the earbuds connected into the band via 23cm cables, so a bit like the Samsung Level U earphones. Construction is first class. The flexible neckband itself is soft-touch rubber that offers reasonable grip for the nape. It's so flexible, in fact, that one can make a knot in the band, and at 44g all in, I sometimes even forget that I'm wearing it, especially if it rests on a shirt collar. Should you have the right-fitting earbuds on, the headphones can be used in the gym or for an outside run without risking them slipping off.
I wondered about the longevity of having thin wires connect buds to the band when reviewing the non-ANC Triple Driver model. As these use the same system, and after abusing them for most of the summer in pockets and bags, pulling them out from under other luggage when travelling, I can report the design is not an issue; the headphones still look and feel new. For easier portability, the back of the earbud chassis is magnetised so that both stay connected during transport. One downside of the design, however, is the earbuds do protrude quite a way from the ear canal, making them obvious, so discreteness is not high on the list of priorities.
Connected to an audio device via Bluetooth 4.2, all of the controls and connections are on the left-hand side. A flip-out cover, feeling a tad flimsy, on the bottom reveals a USB Type-C charging port, while four buttons control the volume, power, pause/play, and a toggle switch for ANC. There's decent articulation on each switch to enable 'blind' usage. The well-presented package includes nine different-sized silicon and foam earbuds and a Type-C-to-3.5mm connector for wired playback. Bear in mind the headphones need to be actively operational in wired mode, so they're no good on a long-haul flight once the battery runs out.
Played at roughly 80 per cent of maximum volume, the review set lasted just over six hours on a full charge, which takes about an hour from flat, though with its fast-charge capability, one is able to get about three hours' usage with just 10 minutes of juice.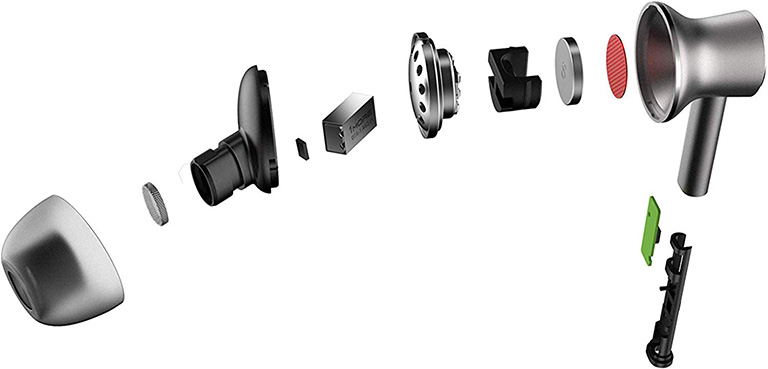 How well does the active noise cancelling (ANC) work? Rather than use some established technology from the likes of Bose or Sony, 1More goes with the TiinLab A2 chip that offers two stages of noise reduction, and it works in concert with the well-sealed earbuds to create effective isolation from the outside world. The overall feel is, I reckon, a halfway house between having none and the level achieved by the best in the business. Set to the first stage of ANC and on a train, for example, you still notice some level of ambient noise if there's no music playing, but as soon as you fire up a tune at reasonable sound levels, only clearly loud sounds permeate the barrier.
1More is smart insofar as the ANC works at the low-end of the audio spectrum, meaning that the balanced armature driver, carrying the highs, is left unaffected. On cheaper headphones activating some form of ANC results in a muffled sound across the frequency range, but not so here. You don't get a sense of being in a vacuum, though after using this pair and the triple-driver (non-ANC) version for a while, I prefer these whenever I'm outside. I'd describe the first-stage ANC performance as subtly decent, because it gets rid of the low-pitched sounds that create the most annoyance. Run at the stronger second-stage setting, the noise-blocking is consistently solid, albeit at the expense of some openness in the sound quality.
These BT headphones also feature what the company refers to as a passthrough mode. It's very useful in situations where you want to play music at a high level but also need to be aware of the surroundings. By passing the ambient sounds via the microphones through to the earbuds, I was aware of cyclists trying to pass me on a canal towpath I like to frequent, all without disrupting enjoyment of the music.
The microphones do an adequate job, and no more, of relaying audio to and from a phone call. I found that I'd have to raise my voice a bit more than on other headphones, especially in windy conditions, but they do the basic job they're tasked to.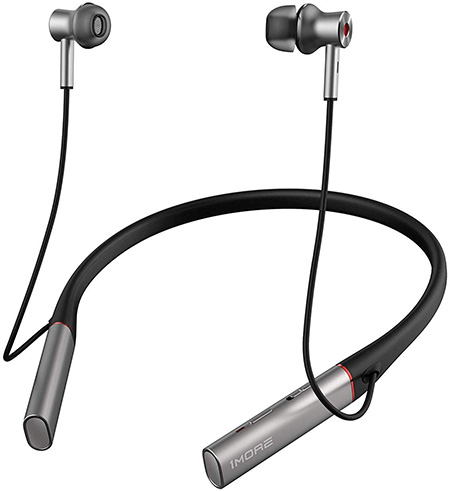 There's no official waterproof rating applied to the BT ANCs. Having survived multiple sweaty gym sessions and the occasional hike in the rain, I'd deem they're at least splashproof.
Testing the audio quality when connected to an iPhone XR, the pair foregoes the higher-bandwidth Sony-engineered LDAC encoding available on the Triple-Driver models and opts for standard sub-band coding (SBC), whose peak bandwidth, at 328Kbps, is 3x lower than LDAC's. That's not a problem for most music, particularly if streamed, and having extended listens to a wide range of tunes, with the ANC feature turned on to the first level, as one would most likely use it, reveals a solid bass line, decent midrange, and a slightly tinny top-end, though only if you run them as loud as possible.
The audio profile is not as bass-heavy as some, which I prefer, as it feels more real-world. Those who want a thumping b-line ought to look elsewhere. Turning off first-level ANC does reveal a slightly cleaner soundstage, more on a par with the Triple-Driver set, and given the excellent fit of the earbuds, which provide a natural sound barrier, I can see some users foregoing the noise-cancelling system altogether. At least you have the choice, depending upon how noisy the ambient environment is.
Overall, then, I'm a fan of the 1More Dual Driver BT ANC in-ear headphones. They look good, are more rugged than the aesthetics suggest, offer a good balance between noise reduction and quality, while the Type-C support, fast-charging capability and passthrough mode all work well. They could be improved by having smaller protrusions on either side as well as LDAC support (which the Triple-Driver has).
Worth about £100? For me, just about, and given a straight choice between these and the non-ANC Triple-Driver models I've reviewed previously, this ANC set wins, primarily for its useful noise-cancelling and cleaner passthrough abilities.
The Good

The Bad

Look good
Snug and comfortable
ANC works well
Fast charging


No LDAC support
Wired mode needs active operation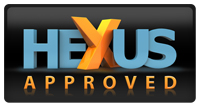 1More E1004BA Dual Driver BT ANC in-ear headphones

HEXUS.where2buy
The reviewed headphones are available from Scan Computers*
HEXUS.right2reply
At HEXUS, we invite the companies whose products we test to comment on our articles. If any company representatives for the products reviewed choose to respond, we'll publish their commentary here verbatim.