Introduction
Corsair's latest ambidextrous mouse is said to favour any form of grip or playing style, in either hand. It's dubbed the M55 RGB Pro and is heading to UK stores priced at £45. All signs suggest that this is intended to be the Corsair mouse for everyone, so is it actually any good?
At £45 the M55 RGB Pro isn't going to break the bank and competes against the likes of the Asus Cerberus Fortus and HyperX Pulsefire Surge. What sets the Corsair apart is that, unlike many competitors, it a true ambidextrous mouse whose symmetry extends beyond the shell to include all buttons. Sounds rather obvious, but you'd be surprised how many 'ambidextrous' mice have buttons on only one side.

M55 RGB Pro doesn't make that mistake. The shallow 124mm x 57mm x 40mm frame is lined with a pair of thumb buttons on either flank, giving the mouse eight buttons in total; the two main clickers; two either side; a clickable scroll wheel; plus a DPI toggle button. The entire thing is perfectly symmetrical (save for the Corsair logo, if you're being pedantic), but using all the buttons isn't ideal for either hand. Recognising that two side buttons are going to be awkward to reach depending on orientation, Corsair actually ships the device with the right thumb buttons disabled as right-handed users may struggle to get to them. Similarly, if you switch the mouse to the left-handed mode, the left thumb buttons are deactivated automatically.
Alternating between dominant hand is as easy as checking a box in the iCue software utility, and if you prefer not to install any software, holding the active thumb buttons for five seconds will also change orientation. Do note that the hardware shortcut ceases to function if iCue is installed, but the software is worth having as it also allows the user to enable all the side buttons if preferred. One obvious benefit to the choice of orientation is in households with left- and right-handed users; M55 RGB Pro is good to go for either in five seconds flat.
We're all for inclusion, however attempting to cover multiple bases often comes with a caveat or two. As a right-handed user, I've found the M55 RGB Pro's opposing thumb buttons both unusable and distracting. They aren't in a comfortable spot to press (hence being disabled out the box), and even when they're not in use, they're pronounced just enough to frequently rub the ring finger. For me, it'd be a better mouse if the opposing buttons weren't there, and I reckon lefties are going to feel the same way.
Or perhaps it's a matter of preference. Users accustomed to ambidextrous mice may feel right at home, but having used Corsair's ergonomic Ironclaw RGB Wireless for the past few weeks, the M55 RGB Pro isn't anywhere near as comfortable. The flat and lightweight (86g) profile bodes well for gamers who favour a nimble design, but it obviously won't match the cosiness of a larger, heavier pointer shaped to fit your hand. Though Corsair insists the M55 RGB Pro is well suited to every sort of grip, my own experience suggests that users with large hands will struggle with a palm grip; claw or fingertip is where this mouse works best.

In terms of overall build quality, the mouse feels well knitted together with no signs of flex in the main body and no squeaks when squeezed hard. We like the textured grip lining each side, and the notched scroll wheel has just about the right amount of resistance for our liking, however the main body feels a tad coarse to the touch. The material does a decent job of repelling fingerprints, though as is to be expected at this lower price point, it doesn't feel anywhere near as smooth or luxurious as the main body of the aforementioned Ironclaw.
Corsair's braided 1.8m USB cord is of good quality, while the main buttons are backed by Omron switches rated for 50-million clicks, and on the underside there's a custom PixArt PAW3327 optical sensor offering a range of 200 to 12,400 DPI. This is our first experience of this particular sensor, and we've come away impressed. Performance and accuracy is excellent, with no perceptible lag or acceleration, and with sensitivity adjustable in 100 DPI increments, it's easy to find a sweet spot.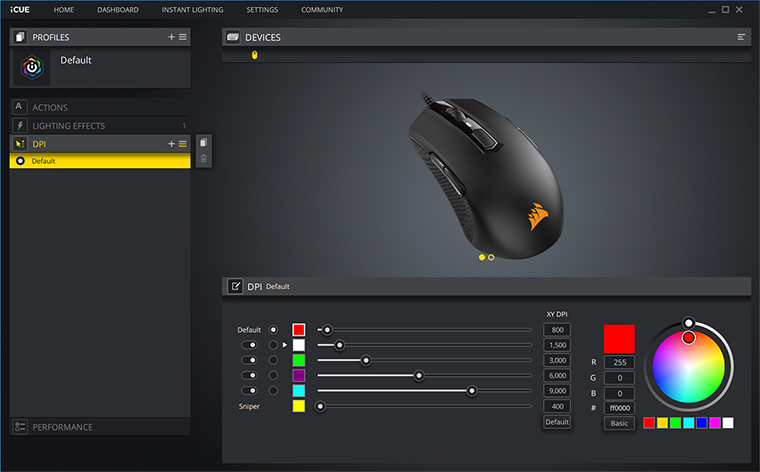 Available polling rates are 125Hz, 250Hz, 500Hz and 1,000Hz, and though premium options such as angle snapping, surface calibration or per-axis sensitivity aren't available, we imagine most gamers will struggle to tell this sensor apart from pricier alternatives. We like the M55 RGB Pro as a plug-and-play solution, so is there any need to install the accompanying iCue software?
The two-zone lighting (Corsair logo and DPI indicator) is hardly worth customising, however the DPI settings do benefit from a little adjustment. Corsair has the five presets configured to 800, 1,500, 3,000, 6,000 and 9,000. These can be individually tweaked, and if five are too many, up to four can be disabled. There's also an option to set a low-sensitivity 'sniper' toggle, which can be mapped to any button. iCue's button-mapping options are comprehensive, ranging from media shortcuts to complex macros, and an onboard profile makes it easy to retain your settings between PCs.