Speeds, feeds, capture, conclusion
Though 4K60 HDR is the key selling point, the Live Gamer 4K has a whole bunch of modes for both pass-through and capture, including at (up to) 1920x1080 at 240fps, 2560x1440 and 2560x1080 at 144fps.There's little point of having these super-high refreshes if capturing console content, of course, but it's useful for high-spec PCs running games such as Overwatch. Got a GeForce GTX 1080 and routinely hit over 200fps on such titles? The Live Gamer 4K can handle and display it on a suitable screen.
Coming back to the key selling point, HDR, the card can take in such video and still pass it through to a non-HDR monitor although it will look washed out. The ultimate, we suppose, would be if the Live Gamer 4K could auto-tonemap high-dynamic range content to SDR on the fly. That's probably asking for too much.
Capturing high-resolution video usually entails a reasonable lag between what's actually happening in the game and what you see in the capture preview window. No consumer card is absolutely lag-free and while AVerMedia does a sterling job at reducing lag as much as possible, joypad/PC mouse movements don't sync up perfectly with what you see on the capture screen, which is just about noticeable on fast-paced games.
AVerMedia says the minimum spec for handling 4K video is a Core i5-6xxx and above processor and a GeForce GTX 1060 and above, though there's no reason why it won't work on an equivalent AMD setup. Dropping down to 1080p means a Core i5-3xxx and GTX 650 or Radeon R7 250 is sufficient.
Software Support
The Live Gamer 4K will capture and broadcast with any modern program such as OBS Studio and XSplit, but to get the most out of it, including HDR support, you need to use AVerMedia's own RECentral software, which is a doddle to configure. The input is irrelevant, because it can be from an older console (non-HDR, FHD), new console (HDR, 4K), or a gaming PC (HDR, 4K).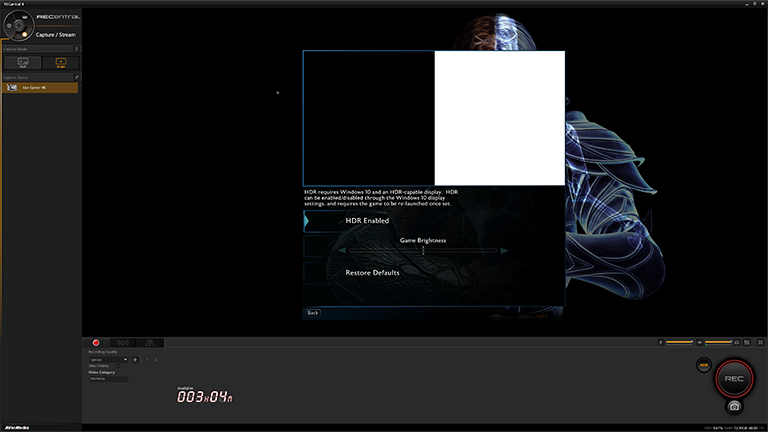 The HDR button becomes active when a compatible source is being fed in. Clicking on it tells RECentral to record in HDR, at up to 4K, but if you don't want to do so for various reasons, the program automatically records a tone-mapped SDR version for easy sharing and distribution. This means you can enjoy all the local visual HDR thrills (pass-through) but share in SDR. The same is true if using other programs such as OBS.
Given the complexity of 4K HDR capturing the card uses the GPU's HEVC (H.265) capability for efficient-size files, and this is why the recommended spec for 4K60 HDR is that GTX 1060. Funnily enough, the produced content cannot be read by the PowerDirector 15 included in the bundle (you need to pay to upgrade to v16), and neither can it be handled by most video-editing programs. Sharing the video on sites such as YouTube also leads to tone-mapped SDR content, not the wide-gamut HDR.
It's clear that support for HDR in terms of editing and sharing is very much in its infancy. One would hope, not presume, that it becomes better over time.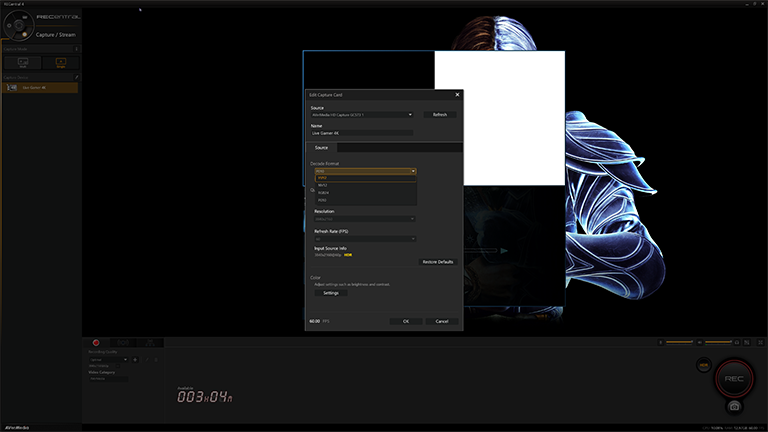 Back to RECentral, we'd recommend leaving the bit-rate and other options alone - the output is clear and crisp. However, the default NV12 decode format can be substituted for a bunch of other options that include higher-quality PO10.
We produced an 88-second 4K60 HDR video that, at the default high-quality settings, takes up 766MB. You'd need the compatible hardware and software to play it, but if you do, it looks excellent on a Samsung 2018 HDR TV. For everyone else, a 4K HDR tone-mapped to SDR works well. The interface is easy to use, offers both single- and multi-stream capabilities, meaning that you can push it to multiple online platforms concurrently, and even a novice can record and share their gaming exploits easily.
Wrap
AVerMedia is raising the video capture and streaming bar with the release of the Live Gamer 4K PCIe solution. Primed for the latest-gen console market by offering 4K60 for both capture and pass-through, with little preview lag, and is in a class of its own by offering nascent HDR support on both fronts - Elgato's dearer card doesn't provide any HDR support at the time of writing.
And latest-gen console is where it is at, because software such as Nvidia Share (formerly ShadowPlay), baked into the latest GeForce architecture and part of GeForce Experience for free, offers reasonable capturing and streaming for PC gaming.
One can argue about the benefits of using HDR right now, especially given the limited support from editing programs and sharing platforms, but it's good to see a full-featured, easy-to-use capture/streaming device that just works.
RECentral, the provided software, is also solid and provides enough configurability to suit newbies who don't want to mess with the intricacies of, say, OBS.
High-quality capture and streaming just became easier with the AVerMedia Live Gamer 4K. Though not cheap, it outperforms its nearest (dearer) competitor, so if you're serious about saving and exporting the best-possible video, there's nothing better on the consumer front right now.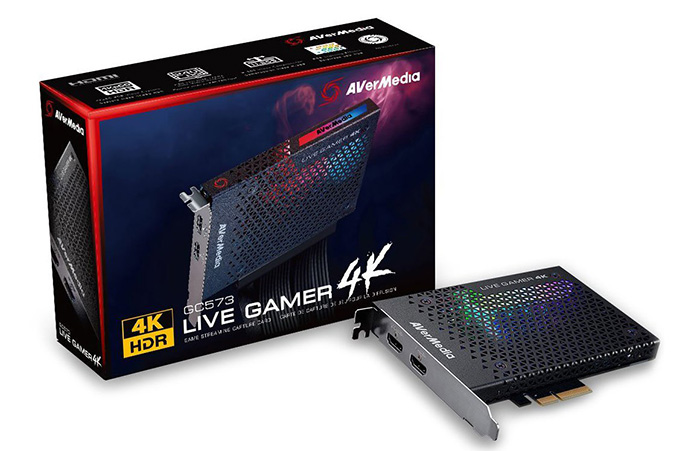 The Good

The Bad

4K60 with HDR support
Minimal-lag preview
Really easy to setup
£75 cheaper than Elgato alternative
RECentral is decent
High-framerate capture/stream

HDR capture/streaming not mainstream
Needs solid PC support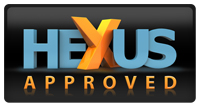 AVerMedia Live Gamer 4K (GC573)
HEXUS.where2buy*
The AVerMedia Live Gamer 4K is available to purchase from Scan Computers.
HEXUS.right2reply
At HEXUS, we invite the companies whose products we test to comment on our articles. If any company representatives for the products reviewed choose to respond, we'll publish their commentary here verbatim.