Keeping to a budget isn't always straightforward when speccing a gaming PC. Get carried away and you can quite easily drop £250 on just a mouse and mouse mat. Appreciating that many gamers have modest resources to play with, manufacturers typically supplant their high-end solutions with more affordable alternatives.
Asus has done exactly that with a growing line-up of products launched under the Cerberus umbrella. Designed to offer gamer-grade credentials without the premium typically attached to the firm's ROG hardware, the Cerberus portfolio has grown to include headsets, mice, keyboards and graphics cards.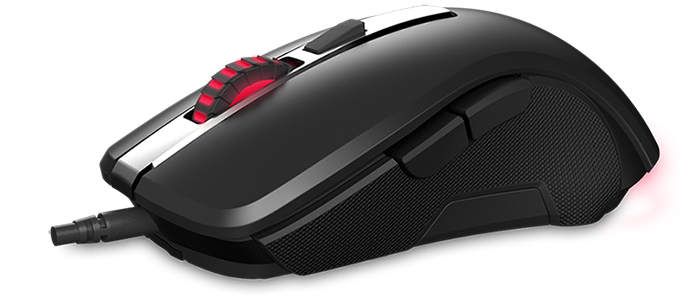 One of the latest additions to the range is the Cerberus Fortus mouse. Priced at £45, the ambidextrous pointer promises RGB lighting, Omron switches, a precise optical sensor and a dedicated DPI toggle button without breaking the bank.
Design and Lighting
Fortus has the handy ability to look more expensive than it is, and the mouse could easily be mistaken for a premium ROG solution. The grey-on-black colour scheme works well, giving the mouse a sleek aesthetic that compliments the trio of subtle lighting zones; the scroll wheel, Cerberus logo and back-end of the mouse all illuminate with a nice glow that isn't overly ostentatious.
What's interesting is that Fortus doesn't ship with a supporting software utility and is designed to function as a plug-and-play solution requiring no app. We quite like the simpler approach as too many pieces of software can quickly clog-up a gaming rig, but it does limit customisation. There's no option to tweak sensor settings, buttons can't be remapped, you don't have any profiles, and changing lighting effects entails a confusing selection of key combinations.
Want to switch between the static, breathing or reactive colour effects? Hit DPI + Forward. Want to pick one of nine preset colours? DPI + Backward. You can also change effect speed and implement different shades of colour using more complex button combinations if you refer to the manual, but even if you master all the lighting shortcuts, you won't be able to illuminate the three zones individually. If it all proves to much, a few presses of DPI + Forward will turn the lights out completely and your last known setting is automatically saved to onboard memory.
Buttons, Sensor and Comfort
Taking a simple approach to buttons, Fortus employs a logical layout of easy-to-reach forward and backward buttons on the left side, a clickable scroll wheel behind which sits the DPI toggle, and well-sized left and right clickers that are backed by favoured Omron switches. The modest layout leaves little to criticise, though if we're nitpicking the distinct notch on the scrollwheel favours weapon switches but might be deemed too stiff by those who prefer a smoother action.
You don't get anything as fancy as, say, a dedicated sniper button or weight adjustment, but Asus does equip Fortus with a magnesium alloy base that makes the 114g weight feel well distributed. Connection to the host PC is made via a 1.8m length of braided USB cable that's angled upward to help minimise drag, and four Teflon feet provide smooth movement on just about any surface.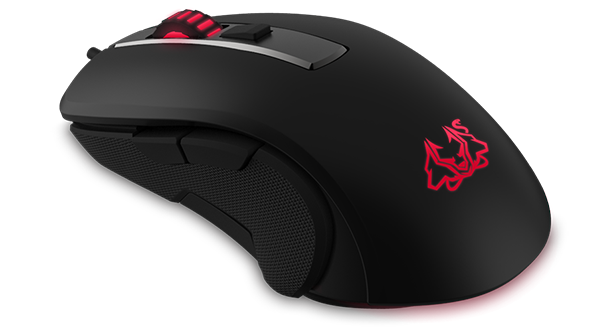 Under the hood, Fortus touts a 4,000dpi optical sensor and a 1,000Hz polling rate. The Pixart ADNS-3050 sensor isn't cutting edge by today's standards and is often featured in budget gaming mice priced below £20. It arguably isn't an ideal fit at the £45 Cerberus price point, yet the sensor is sufficiently precise and the choice of sensitivity settings (500, 1,000, 2,000 and 4,000) should be enough to satisfy the casual gamer.
The most important characteristic of a gaming peripheral, in our estimation, is how it feels in the hand, and it's in this department that Cerberus Fortus has us divided. Those in the office with smaller hands quite like the 125mm x 69mm x 40mm form factor, but my long, slender digits haven't taken to it. Fortus is too shallow and nimble for my personal preference, even when attempting to use a claw grip, and the textured grips on the sides aren't doing enough to help.
Asus claims to have used "anti-stick plastic" to ensure that the textured sides are durable and remain free of dirt, but as a consequence they don't offer enough grip. I feel as though I have to hold the mouse tighter than I'd like in order not to lose it, and doing so reveals that the plastic elements aren't knitted together to the highest standard - give the sides a squeeze and you hear a slight creak of materials rubbing one another.
Summary
...a good-looking choice for casual PC gamers seeking essential features without many of the frills.

Cerberus Fortus is a good-looking choice for casual PC gamers seeking essential features without many of the frills. Asus provides six buttons, Omron switches, a dedicated DPI toggle and a capable optical sensor in a well-weighted and ambidextrous form factor that's ideally suited to smaller hands.

The core ingredients hold promise, but has Asus done enough to justify the £45 fee in what is a highly competitive field? The absence of software customisation is a sticking point, but if you're after a branded gaming mouse that handles the essentials with minimal fuss, Cerberus Fortus ticks most of the relevant boxes.

The Good

The Bad

Sleek, ambidextrous form factor
Dedicated DPI toggle switch
RGB lighting

Limited customisation
Tad small for large hands
Pricey for a ADNS-3050 sensor




HEXUS.where2buy*

The Asus Cerberus Fortus gaming mouse is available to purchase from the Scan Computers.

HEXUS.right2reply

At HEXUS, we invite the companies whose products we test to comment on our articles. If any company representatives for the products reviewed choose to respond, we'll publish their commentary here verbatim.