Software and Summary
Making the most of Gladius II's available features requires customisation, and while the mouse works just fine as a plug-and-play solution, you'll want to install the free-to-download Armoury software in order to unlock its full potential.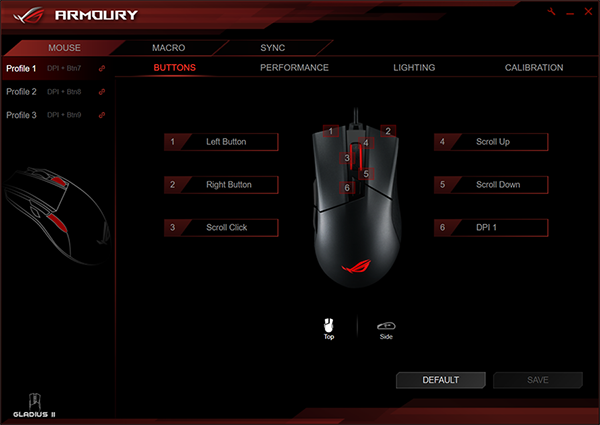 Intuitively laid out and easy to use, Armoury begins by updating the mouse to the latest available firmware and then makes available all the customisation options you'd expect. The first page, tabs, allows users to re-assign the mouse buttons as they see fit and there are three profiles stored on built-in memory. What's handy is that the profiles can be assigned to .exes so that they automatically apply when you launch certain games.
Recording macros is a doddle, as is setting DPI levels and polling rate via the performance tab. It's on the lighting page that most of the action takes place, and Asus offers a good level of customisation with various effects, brightness settings and the ability to independently illuminate the three backlit zones.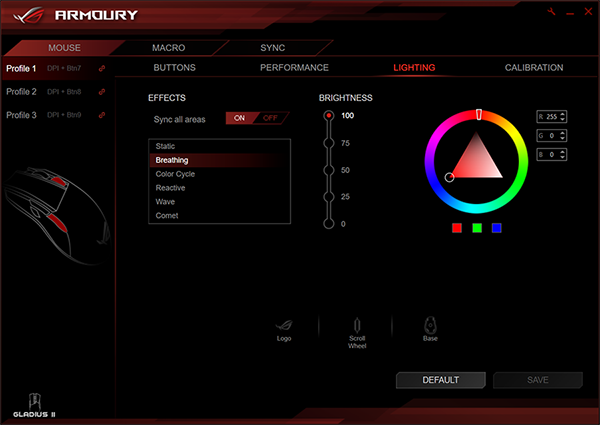 RGB lighting isn't a feature we rank high on our list of priorities, yet Asus's implementation does look the part. The LEDs are crisp and bright, with the underglow in particular working well. If there's a caveat it's that the lights look fancy but offer no real substance. We reckon the time has come for Asus to take a page out of the Razer playbook and introduce an Aura SDK that would allow game developers to tap into the firm's various illuminating products. Rather than just looking pretty, the lights would be far more interesting if they reacted to in-game action.
...a precise and comfortable gaming peripheral with many plus points, Gladius II is best suited to users who are heavily invested in the Aura ecosystem.

Conclusion

Building on the foundations of the well-received Gladius, Asus's v2 revision offers an upgraded 12,000dpi sensor, a new DPI target button and, of course, Aura RGB lighting.

The form factor is still highly agreeable (unless you're a leftie) but the revisions are likely to be met with mixed reaction. Gladius II's new sensor offers excellent tracking, but the DPI target button is a love-it-or-loathe-it addition, and while the RGB illumination works a treat, the £80 price serves as a sizeable hurdle.

Bottom line: a precise and comfortable gaming peripheral with many plus points, Gladius II is best suited to users who are heavily invested in the Aura ecosystem. For everyone else, the original Gladius at half the price is a safer bet.

The Good

The Bad

Retains the popular Gladius profile
Ultra-precise optical sensor
Aura lighting is crisp and bright
Easy to use software utility
Choice of cables and switches

Pricey compared to Gladius I
DPI target button not for everyone




Asus ROG Gladius II




HEXUS.where2buy*

The Asus ROG Gladius II gaming mouse is available to purchase from the Scan Computers.

HEXUS.right2reply

At HEXUS, we invite the companies whose products we test to comment on our articles. If any company representatives for the products reviewed choose to respond, we'll publish their commentary here verbatim.