WiFi performance
To put the TP-Link Archer C9 through its paces, the wireless performance was tested by sending bi-directional data streams to a Gigabit-connected desktop from a high-performance laptop making use of the TP-Link Archer T4U wireless AC adapter. This testing was done on the 2.4GHz and 5GHz bands at three different distances:
Short range - approximately five metres with no line-of-sight disruptions
Medium range - approximately 15 metres with wall separation
Long range - approximately 25 metres with multiple wall separation and level change; this is close to a WiFi blackspot scenario
It's worth noting that the particular results we achieved are specific to the conditions we tested in: your mileage may vary depending on the receiving hardware and environmental conditions. We pitched the TP-Link Archer C9 (£125) against the ASUS DSL-AC68 (£175) which is identical to the RT-AC68U (£155) except with a baked-in DSL modem. TP-Link also offers the Archer C9 with a DSL modem and that particular model is aptly named the Archer D9 and retails for around £145.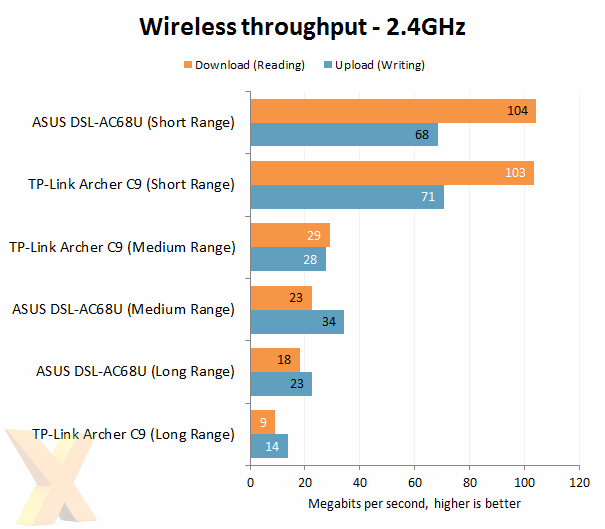 2.4GHz performance is virtually identical between the TP-Link Archer C9 and ASUS DSL-AC68U, only at long range did the Archer C9 fall behind slightly. In any case both routers demonstrated solid performance that's enough to max out the receiving capabilities of most 2.4GHz-band mobile devices.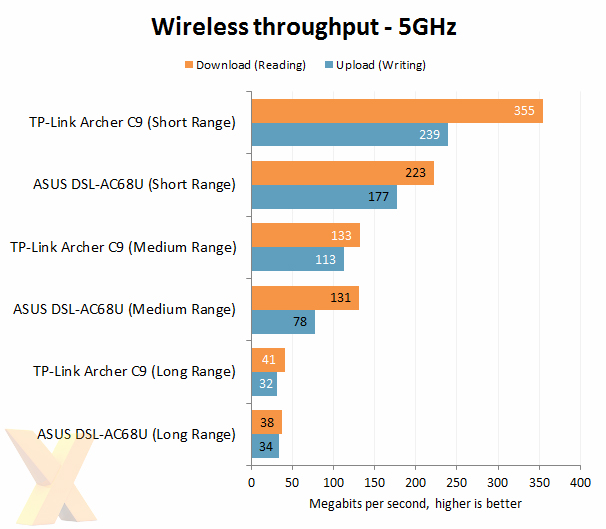 In the 5GHz tests we were surprised to see the TP-Link Archer C9 pull away with such a substantial lead given that both routers make use of similar Broadcom AC1900 chipsets. The results would suggest the TP-Link Archer C9 benefits from better aerial placement or firmware to establish such a comprehensive lead. At medium-to-long distances both routers were expectedly close.