USB performance and power consumption
The USB throughput figures for the Archer C9 were surprisingly weak given it makes use of a USB 3.0 implementation. In fact, testing both the USB 2.0 and 3.0 ports delivered similar results of 20~25MB/s on the read and writes. The ASUS router doesn't fare much better on the writes but delivers almost twice the read speed.
There was also minor instability through the USB 3.0 port where the attached drive would disconnect for short periods of time, but the same behaviour was not exhibited by the USB 2.0 port. The USB solution deployed is, in our opinion, in need of revision or updated firmware to boost its performance and reliability.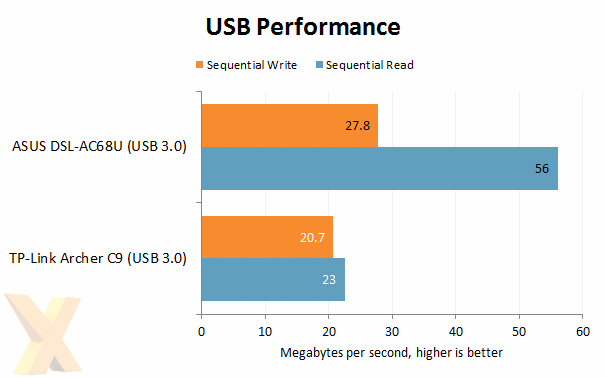 Measured power consumption was a few watts lower than the ASUS DSL-AC68U which is expected since the Archer C9 does not include an always-on DSL modem. If you take the modem out of the equation both routers, and other Broadcom-based AC1900 devices, are likely to offer very similar power levels.