Introduction
The ultimate Intel consumer platform remains the X99. Home now to the deca-core 6950X and recently updated through a minor refresh, the X99 chipset is where manufacturers throw in the bells, whistles and kitchen sink. It kind of makes sense in this environment, too, as a base build can cost £2,000 upwards.
Motherboards on this chipset range from £150 to, well, over £400. Picking a really solid option at £250 is usually the way to go, balancing out features, looks and cost, and industry veteran Gigabyte plies this area with the X99 Ultra Gaming.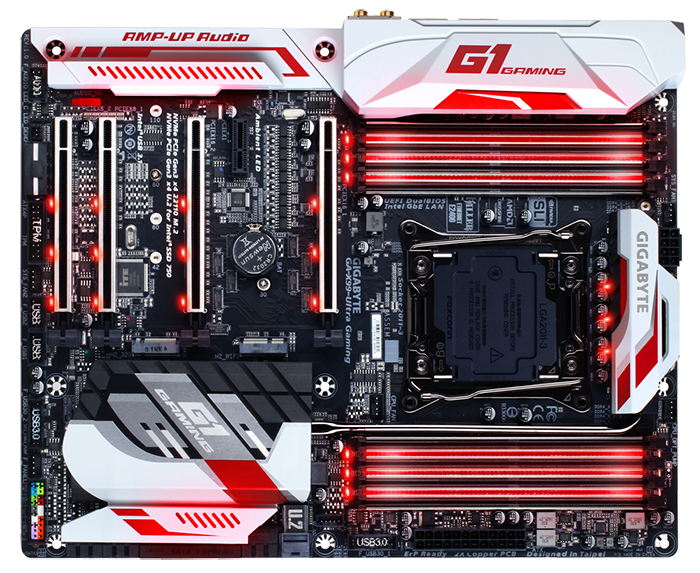 It's bit of a looker, isn't it? The RAM and expansion slots are supported by metal surrounds that add rigidity and enhance looks. The liberal use of white and red works well, subjectively speaking, and it looks better in the flesh than the pictures, though if you're build doesn't adhere to this colour scheme then it can appear jarring.
A thick heatpipe connects the top and bottom heatsinks that are installed properly - there's no flex or give in them. Eight DIMM slots is normal fare, equally spaced on either side, but we'd prefer them to be a bit farther away from the CPU.
One of the standout features on the board is the extensive use of RGB lighting: it's literally everywhere. Set by a Windows-based utility, the colour choice is almost limitless, but do be aware that you only get one choice of board-wide colour, meaning that different hues cannot be set for various areas.
Colours are bright and vivid, and Gigabyte goes the whole nine yards by providing an extra RGB header, for enhanced effects, though the light-strip is purchased separately. Should you want, rather than a block of colour, the LEDs can be set to breathing and pulse modes, and both work well.
The CPU socket itself is of the 'OC' variety, meaning that it has the full complement of pins for enhanced overclocking. Other useful features stack up, including Killer E2400 networking, an Intel LAN, ALC1150 codec, NVMe U.2 (not usable on a 28-lane CPU) and full-speed M.2 slot, and USB 3.1 in both Type-A and Type-C.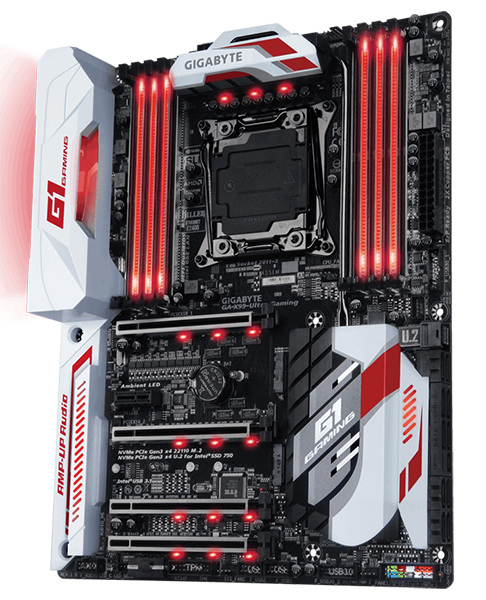 But, of course there are compromises in order to hit the £250 price point. There's no onboard WiFi - though you can use the expansion slot for one. Onboard buttons are missing, so is a debug LED, and the clear CMOS is just two pins in the lower-middle of the board; we'd prefer it 'round back.
Laying out all these features and the larger-than-normal cooling can cause boards to be too intricate. Gigabyte lays out the Ultra Gaming well. The primary PCIe x16 slot is far enough away from the CPU not to interfere with cooling - we had no problems with a Noctua NH-D15 in either orientation - and the M.2 slot, handy for super-fast storage, is between the second and third PCIe x16 slots, which are space nicely apart.
Getting the most out of this board requires the use of a 40-lane CPU, paving the way for up to three-way SLI or CrossFire and that U.2 connector previously mentioned.

There's no explicit Thunderbolt connector, but a board header enables an add-in card. Note the WiFi aerial housing should you choose to use an add-in card? Lots of USB 3.0 is normal these days, so is the Type-A and Type-C connectors. Audio aficionados will welcome the S/PDIF output. We'd like to see a board-mounted USB 3.1 for the few chassis that support it.
Most manufacturers tend to spend a decent chunk of money and time enhancing BIOSes that are installed on whole families of boards, and that is the case here.
Gigabyte has simplified the BIOS look and provides at-a-glance, live information on the system. Of particular note is the improved fan-control system - so many BIOSes expend too little effort here - and now you can simply drag various lines that strike a compromise between noise and cooling. Be careful not to have the points too close together, though. It's handy that the fans can be turned off completely, something not often seen on these motherboards.
Of course, all of this functionality is replicated in the operating system through various utilities, but we're happy to see Gigabyte take a cleaner, more efficient approach for the firmware.