A Touch Of Colour
Launching a week earlier than anticipated, the premier Intel X99 chipset, home to the new Haswell Extreme (HSW-E) processors, is now available from a wide range of partners. We've already seen Asus provide a feature-rich, overclocking-friendly board in the X99-Deluxe, so now it's the turn of Gigabyte to try and outdo its Taiwanese rival.
Coming to market with seven boards from today, we've chosen the mid-level X99-Gaming 5 for review appraisal.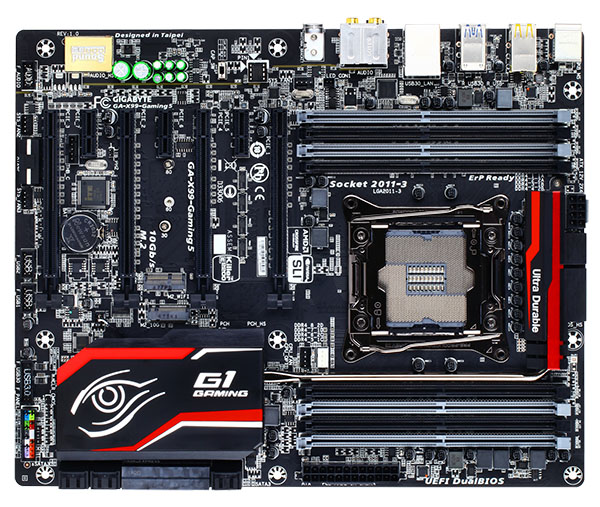 We're glad to see Gigabyte retains eight DIMM slots for this model. Users should be able to add 32GB of DDR4 2,133 memory for approximately £350. Simple colour coding makes it easy to know which modules go where. The slots are spaced far enough away from the LGA 2011-v3 socket as to make it easy to remove memory without dismounting coolers. Gigabyte could take a leaf out of MSI's book and remove much of the superfluous branding in evidence, bringing an even cleaner look to the board.
Fitting in an array of expansion slots requires a little layout redesign. The 8-pin CPU connector is moved to the middle, leaving space to move the DIMM slots to the right. A chunky heatsink connects to the one on the X99 PCH southbridge, and though there's arguably no need for such cooling on the platform controller hub, the heatsink does look cool.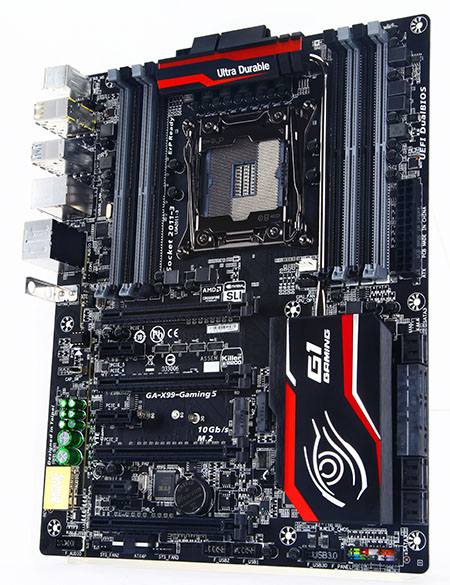 The way in which storage is arranged depends upon how the manufacturer views the balance between regular SATA, SATA Express and M.2. Gigabyte opts for 10 SATA 6Gbps, a SATA Express connector and provision for M.2. They all can't be used concurrently, of course, so you have to choose between M.2, SATA ports 3/4 or SATA Express - all share the same connection to the X99 chipset. As is the case with most X99 boards, an operating system-holding drive needs to be attached to the black SATA ports, so do bear that in mind.
Debug LEDs are omitted on this mid-range board, but Gigabyte adds a bit of colour, literally, by using red LED lighting inside the southbridge heatsink and across a strip running alongside the audio section.
Gigabyte also upgrades the audio by using a Creative Sound Core 3D chip that's backed by a high-quality Ti Burr Brown OPA2134 operational amplifier located by the primary PCIe x16 slot. The op-amp can be swapped out for another - at a cost - for a different type of sound. The audio chip, meanwhile, hooks into Creative's CrystalVoice and SBX Pro Studio audio playback technologies installed on the operating system.
Sticking a 40-lane Core i7-5960X or Core i7-5930K in the socket opens the way for the four PCIe x16 slots to be run at x8 (Gen 3) concurrently. Only use two slots and you gain the full x16 lanes for each card, and we like that they're spaced out sensibly. Extra power can be allocated to the slots by plugging in a Molex connector at the bottom of the Gaming 5.
Two M.2 connectors are spaced between the second and third PCIe x16. The first is for standard M.2 storage drives while the second is reserved for an optional WiFi card. The Gaming 5 also takes advantage of four out of the chipset's six USB 3.0 ports, augmenting them with a 4-port Renesas USB 3.0 controller for a total of eight SuperSpeed USB. Five (four-pin) fan headers are dotted around the board - three for system fans, two for CPU coolers.

Yellow USB 2.0 ports emanate from the X99 chipset. The white USB 3.0 port is purposely coloured this way because it's used with Gigabyte's Q-Flash Plus utility, making it easy to flash the BIOS from a drive.
Qualcomm's Killer E2201 Gigabit Ethernet chip plumbs out to the solitary RJ45 port (we'd prefer the 21xx version, or the latest Intel GbE) while Gigabyte finishes the section off with a pre-attached antenna bracket for the optional M.2-based WiFi card.
If it were up to us, we'd include onboard power and reset buttons - a godsend when testing out of a case - but such features are reserved for Gigabyte's premium models. Other than that, at £200 or so, the Gaming 5 carries a solid specification alongside a clear and logical layout.