Layout and features, plus BIOS
AMD released the Bulldozer-based FX series of chips on Wednesday. Reviewed right over here, the brand-new architecture is something of a curate's egg insofar it packs in some good with more than a little bad. Officially speaking, the FX chips' peak current requirement and DDR3-1,866 memory support necessitates a new socket and associated chipset, and they're called AM3+ and 9-series, respectively.
But AM3+ is mechanically identical to the AM3 sockets present on 8-series boards, and such is the underlying power-management similarity between the new and old(er) processors, that enterprising motherboard manufacturers have already certified a wide range of older boards - 8-series and 7-series AMD, plus 7-series NVIDIA - for use with the FX processors.
So while you don't need to purchase a 9-series motherboard as a companion to the FX chip, AMD and its partners would like you to do so, keeping everything tickety-boo. The AMD-approved upgrade presents partners with a chance to refresh their catalogues with 'all-new' boards.
Gigabyte jumps on the 9-series bandwagon with the release of no fewer than seven boards split over the range-topping 990FX, 990X and mainstream 970 chipsets. Supporting both AM3+ and AM3 AMD processors, readers with last-generation Phenom II and Athlon II chips are also catered for.
The finest board from Gigabyte's 9-series stable is the 990FXA-UD7. Priced at £200 and positioned to attract the attention of the enthusiast who wants it all, let's take a closer look.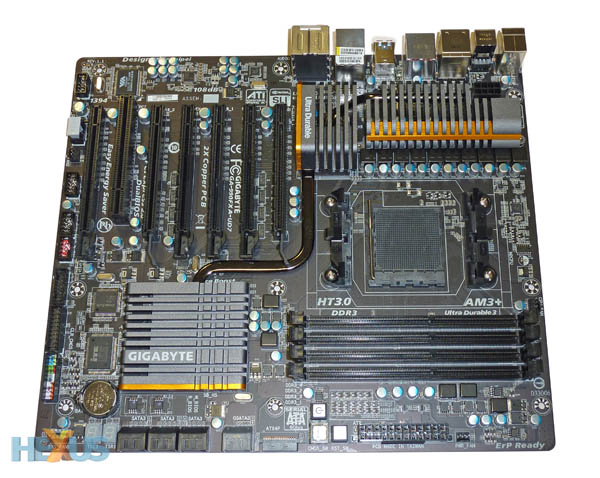 Value for money is less of a concern at this end of the market. Accordingly, the good-looking UD7 is presented in the larger-than-normal eATX form factor. The PCB measures 30.5cm by 26.6cm: be sure to have enough room in your chassis if contemplating a purchase.
Much like the 890FX, this board is a two-chip solution, pairing the 990FX northbridge with the SB950 southbridge. The northbridge provides two PCIe 2.0 x16 lanes for graphics, plus six general-purpose PCIe for expansion. Designed to be push FX chips to the limit - and they can pull a lot of power doing so - Gigabyte has a beefy heatsink - which, sensibly, is screwed in - on the regulation components near the socket. Multi-phase power - 10 in this case - chimes in when required.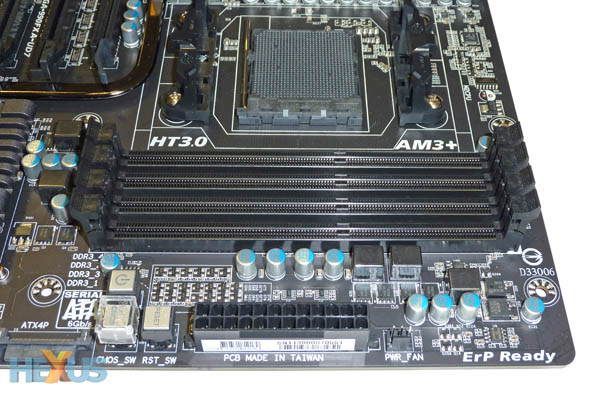 It's easy to fit larger coolers on the retention mechanism surrounding the AM3+ socket, and we had no problems in getting a twin-fan Corsair A70 to sit on top of an FX-8150. Four DIMM slots go past AMD's now-supported 1,866MHz standard by giving you 2,000MHz off the bat, assuming your modules can do the speed. Bear in mind that Gigabyte says you must have an FX CPU to obtain 1,866MHz-plus frequencies at stock CPU settings.
Power, reset and clear-CMOS buttons are all handily placed near the edge of the board, but the UD7 could do with more than two fan-headers in close proximity to the CPU.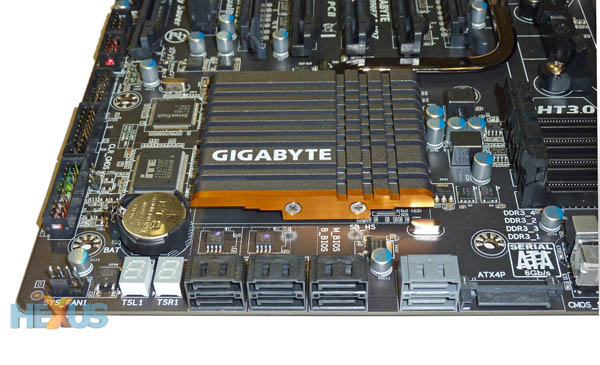 Notice the SATA power connector next to the ports? It's there to provide a little more juice when two or more graphics cards are installed. A highly overclocked FX chip and high-end graphics cards are primed to test the strength of your PSU, so Gigabyte evens out the load just a touch.
SB950 offers up six SATA 6Gbps ports. A deluxe board often has extra connectivity; here there are a couple of ports from a board-mounted Marvell controller. Debug LEDs are always useful, as are the easily-identifiable panel connectors, though Gigabyte could do with an ASUS-style Q-connector.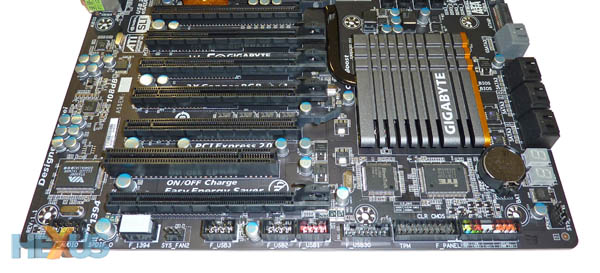 Five mechanical PCIe x16 slots open up some fancy-pants multi-GPU configurations. The UD7 supports both AMD's CrossFireX (obviously) and NVIDIA's SLI. All told, the slots electrically run as follows: 2x x16, 2x x8 and 2 x x4. Run two cards and the topmost and the one above the PCIc are used - both give full-bandwidth x16 support, and the bundle includes an extra-long CrossFire and SLI bridges to cover the gap between the two.
Put in three cards and you slot the third into a x8 slot. Go all out for four and the electrical arrangement means the second x8 is used, too, though the lack of PCIe lanes means that all slots drop to x8 if three or four cards are used - you cannot run x16, x16, x8 and x8, for example.

AMD hasn't integrated USB 3.0 into the SB950, thus the two ports are powered from an Etron controller, plus a header for two more on the board itself. UD7 also uses the hybrid eSATA and USB combo we've seen before, and audio buffs will appreciate the coaxial and S/PDIF-out from the ALC889 codec.
There's a lot going on with the 990FXA-UD7 but it doesn't feel cramped; the eATX form factor is a good move here. Also, it's not as over-the-top as the previous generation 890FXA-UD7, which fitted in watercooling and IDE ports.
BIOS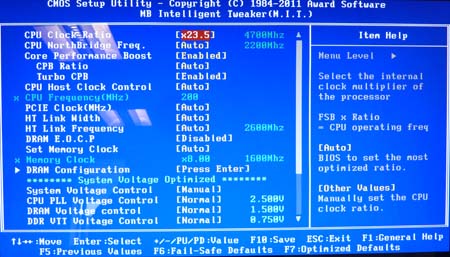 We won't spend too long on the BIOS as Gigabyte has yet to transition this board to a UEFI version. Instead, you're presented with the blue background of the ubiquitous Award software.
There's everything you could want but it does feel somewhat in contrast to the board's cutting-edge look. Voltage adjustment is good, with DDR3 going up to 2.135V, CPU's high enough to burn the FX, northbridge's to 2.435V and the HT link to 1.835V. In short, there's enough on tap to wear out your components long before you hit the board's highest settings.
The quality of a BIOS is becoming less of a concern as Windows-based apps - UD7 is compatible with EasyTune 6 - imitate what we see here, but it's a shame that the novel, interesting Touch BIOS present on the Z68 boards doesn't make an appearance. Gigabyte needs to match the likes of ASUS by releasing full-UEFI BIOSes; they're so much nicer to navigate.