MSI Creator TRX40
AMD and Intel launched high-end desktop processors last week primed for content creators and well-heeled enthusiasts. Threadripper 3960X and 3970X won out in the performance stakes, but Intel's Cascade Lake-based Core X-series proved to be no slouches, either.
3rd Gen Ryzen Threadripper needs a new motherboard based on the TRX40 chipset, while the latest Core X-series' 48 PCIe lanes are best served with an X299 refresh motherboard able to support the four extra lanes. Sounds like an opportune time for releasing new boards for both sets of HEDT chips. MSI has done exactly that by launching a sub-brand known as Creator. It's handy that we have both the Creator TRX40 (£680) and Creator X299 (£480) in for review. Let's compare.
First up is the Creator TRX40. Remember that only two CPUs work with it currently - TR 3960X and TR 3970X - with the 64-core, 128-thread TR 3990X available next year.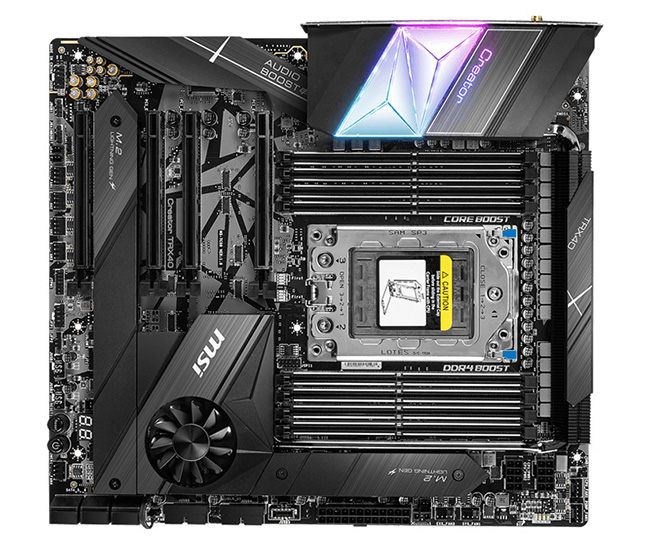 Let's talk expansion first. All four x16 mechanical slots adhere to the latest PCIe 4.0 standard, and they are all plumbed off the 56 usable lanes from the Ryzen Threadripper CPUs. AMD allocates 48 lanes for these slots, so if fully populated, you receive x16/x8/x16/x8 support. There ought to be no traffic issues given that AMD is using the latest specification, and may be a boon to content creators who require multiple high-performance GPUs. Gamers, however, can run three cards under SLI or CrossFire.
The remaining eight PCIe 4.0 lanes are given over to dual M.2 slots running at full speed, along with, on this Creator, four USB 3.2 Gen 2. Memory support scales up to 4,666MHz and 256GB capacity, though the exact configuration is dependant upon the modules used. it's worth knowing the platform supports ECC memory, as well.
As the board needs to cope with processors with a 280W default TDP, rising to over 400W when overclocked, 16-phase VRM and smaller MOSFET cooling is excellent. A chunky, finned aluminium heatsink connects to the I/O panel on one side and the TRX40 chipset on the other via heatpipes. The I/O cover is not plastic, as you see on most mid-priced boards, but finned metal, so acts a giant heatsink of its own. The subtle RGB illumination is limited to a small section on top of the cover.
MSI's decision to opt for a right-angled M.2 heatsink is both good and bad. The long heatsink below the chipset has 2280 and 22110 support for M.2 and SATA drives, and both devices are attached directly to the Threadripper CPU's PCIe 4.0 lanes. The remaining slot, up by the 24-pin connector, grabs four of the TRX40 chipset's 16 usable lanes.
Nothing wrong with having three M.2 slots that can, concurrently, all run at full PCIe 4.0 x4 speed, but reserving the space near the bottom of the E-ATX board means that the second PCIe x16 is not double-width. We'd prefer MSI to find a different way of housing M.2 so that it can still retain four double-wide graphics slots.
The chipset is built by GlobalFoundries and, like most X570 boards, has a fan. However, it is never on during regular use, and is only called into action during initial POST or when running sustained M.2. The BIOS has a means by which you can effectively render it off at all times by toggling the temperature switch-on point.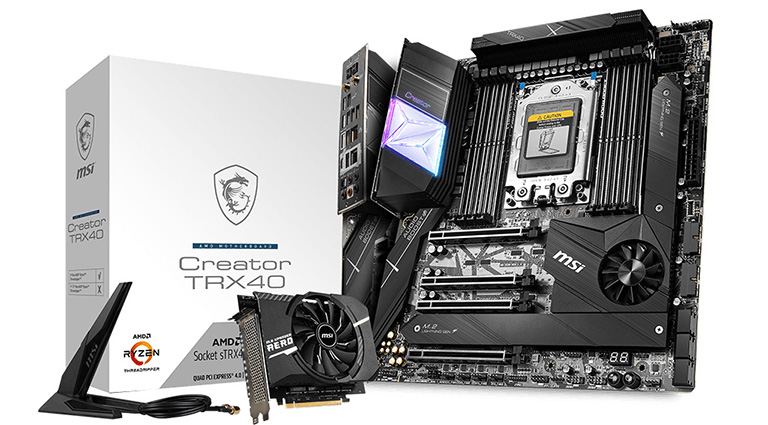 Six SATA, two USB 3.1 Gen 1 connectors, nine 4-pin fan connectors, a trio of thermal sensors, support for 5050RGB and dual ARGB are in addition to a handy debug LED and onboard power and reset buttons. We like the location of each connector, helped by the wider E-ATX form factor. Fully built, no wires criss-cross the board.
MSI understands that content creators, for which this board is primed, may need to use heaps of super-fast storage. To this end, sensibly, it includes an M.2 Xpander Aero card that fits into a standard x16 slot and delivers PCIe 4.0 x4 bandwidth to each of the four slots, giving a possible seven drives for the board, with all but one connected directly to the CPU. The sheer bandwidth is a feature that the Creator X299 simply cannot match.

The I/O is feature-packed, too. The chipset supports a 10Gbe Aquantia AQC107 NIC alongside a regular Intel Gigabit i211AT and Intel Wi-Fi 6/BT5 AX200 aerials. There's bountiful USB, including 20Gbps USB 3.2 Gen 2 2x2 Type-C, and the clear CMOS button we happen to use a fair bit when overclocking.
MSI uses the interesting combination of the Realtek ALC4050H and ALC1220 codecs for rear-panel audio support. Nothing wrong with that, though appreciating its designer focus, and like Gigabyte, we'd encourage MSI to include an ESS9218 DAC for front-panel support. And is there a case for adding a third 8-pin CPU connector, like the X299 version. Decisions, decisions.
Though undeniably expensive, the MSI Creator TRX40 has most of the right features for a content creator. A few tweaks would, on the face of it, take it from very good to excellent.