MSI Creator X299
It is understandable that MSI takes much the same tack with the Creator X299. The design of the I/O cover/heatsink is identical between the two boards. Being somewhat smaller in length, the LGA 2066 socket enables MSI to push the heatsink a bit further into the board, leaving enough space for three 8-pin CPU connectors. That doesn't make much sense, as it's the Creator TRX40 that could benefit most from additional power. Having fewer power phases and a less-capable heatsink makes sense. Even so, there's enough electrical power here to drive any manner of Core X-series overclock.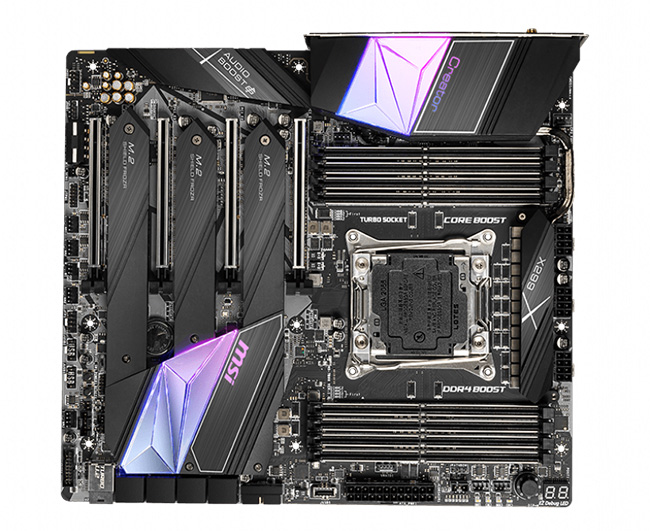 The same eight DIMM slots support up to 256GB of memory, though there's no ECC support for Core X-series. Like AMD, the four x16 slots run from the CPU, though this time, they're PCIe 3.0 and on a 48-lane Core X-series, are split x8/x8/x16/x8, which means less than half the aggregate bandwidth of Threadripper. According to MSI, this model boasts 4-way SLI and CrossFire, which is strange given the 3-way compatibility on TRX40.
X299 also supports two M.2 drives at x4, though at the slower PCIe 3.0 speed, and the way the lanes are arranged between graphics and storage from the CPU, the Intel platform needs switches - AMD doesn't.
Pragmatically, the Creator X299's PCIe layout is better. The three M.2 slots - including one from the chipset - are arranged on the left-hand side, enabling the four PCIe x16 slots to have adequate dual-slot spacing. Note that, like TRX40, there's no room for PCIe x1. The onboard power and reset buttons are much smaller, and the debug LED may be obscured by an all-in-one cooler.
X299 has a couple more SATA ports and a U.2, but we wonder if the latter port makes sense on a high-end 2019 motherboard. It also has, as is plain to see, more Mystic Lighting on the southbridge. We liked it when Aorus rotated the main 24-pin power connector for its high-end board, and it's something we'd recommend to MSI, for a cleaner build aesthetic.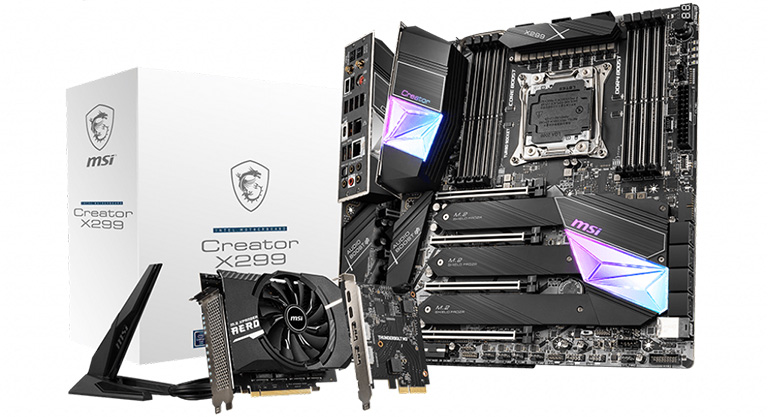 The bundle also features the same Xpander Aero, though it's obviously limited to PCIe 3.0 speeds across the four drives. X299 includes a dedicated Thunderbolt M3 add-in card. One can't use it on the TRX40 model because it doesn't feature the requisite header.
X299 also carries the same audio combination, and our thoughts from the previous page are equally applicable here; MSI ought to have better audio on its finest content-creator boards.

In all, the board supports 19 USB - 11x 3.2 Gen 1 (5Gbps), 1x 3.2 Gen 2 (10Gbps), 6x USB 2.0 (0.48Gbps), and a single 3.2 Gen 2 2x2 (20Gbps) from the same ASMedia 3242 controller. There's also the same Ethernet - so 10Gbps and 1Gbps - and the clear CMOS button we are fond of. We're not sure why MSI didn't have PS/2 on the TRX40 model; it takes up no other ports' space.
Overall, MSI mixes and matches features depending upon model. The AMD has more PCIe lanes, more robust cooling, but the Intel board has better M.2 layout, an extra 8-pin CPU connector, a Thunderbolt card, and two-location RGB lighting.
Let's now see which platform is better as we run them both through the benchmark gauntlet.