Introduction
The release of Ryzen 3000-series CPUs ushered a new raft of premium motherboards based on the X570 chipset. With official provision for PCIe 4.0 for graphics and super-speedy storage, everyone in the motherboard firmament has launched numerous models to support it.
And X570 boards are considerably more expensive than the X470 they effectively replace. Take a look at the Asus stack for example. A basic X570 Prime Pro will set you back £190, upping the stakes to the X570-F Gaming increases the cost to £270, while the Crosshair and Formula arrive at £400 and £580. Ouch. As direct comparison, the relevant X470 boards are available for £145, £190, £250, and £420, respectively.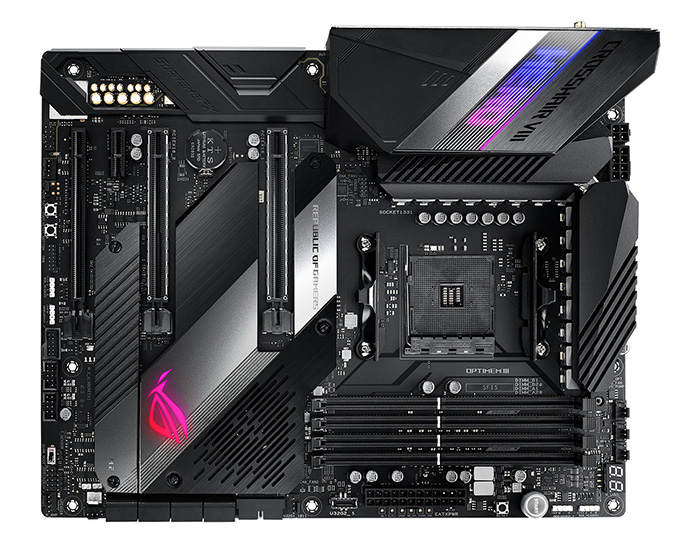 Those opting for the impressive 12-core Ryzen 9 3900 are likely to pair it with a premium motherboard. This is where the ROG Crosshair VIII Hero (WiFi) comes in handy. The standard board is, as we say, £400, and the WiFi version an extra £20.
Key differences over the previous generation include explicit support for Ryzen 3000-series CPUs - the Asus page for Crosshair VII omits official compatibility - a substantially redesigned heatsink, WiFi 6, 2.5G Gigabit LAN, significantly more USB 3.1G2, and a better aesthetic.
RGB is limited to a couple of sections, and whilst it may appear the board has a funky LCD display in both areas, the truth is that those sections house a few LEDs that shine through translucent plastic. The effect is decent enough, controllable by a utility, and Crosshair VIII Hero is restrained compared to many. That said, we always appreciate an integrated I/O cover.
Heatsinks surrounding the CPU socket are nice and solid. On this model, Asus uses a 7-phase VRM that are each home to two IR3555 60A power stages, making 14 in total, plus another couple for the SoC. This is how the company gets to 16. Of course, you are not going to maximising the theoretical limit of each dual-stage phase (120A), so the 60A rating is mostly meaningless. Depending upon CPU used, Asus can turn off phases in order to achieve higher power efficiency. If anything, this board's VRM setup is overengineered for the vast majority of users. Indeed, unless you are doing some extreme overclocking, even the decent heatsinks are overkill.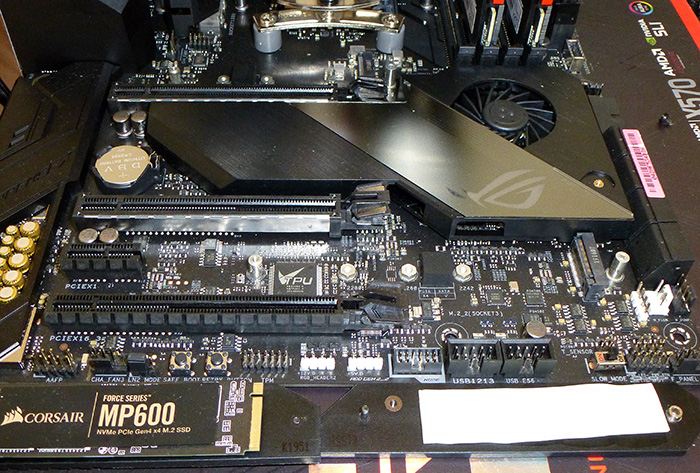 There are a goodly number of fan headers for esoteric cooling, and dual EPS (8+4-pin) offer enough power to the board when overclocking, especially for the higher-end CPUs such as Ryzen 9 3900/3950X run on LN2.
The massive central heatsink isn't a one-piece solution, a la MSI. Rather, there are two specific M.2 heatsinks that come away, plus a cover for the X570 chipset SOC that clearly hides a small fan. Bear in mind that it's on at all times though cannot be heard over the noise produced by the CPU and GPU coolers.
Heatsink design decisions mean that the two upper x16 expansion slots both run from the CPU, either at PCIe 4.0 or PCIe 3.0 speeds depending upon processor. A single card has access to a full 16 lanes, which are bifurcated into dual x8 for two. The bottom x1 and x16 PCIe 4.0 slots, meanwhile, come from the chipset.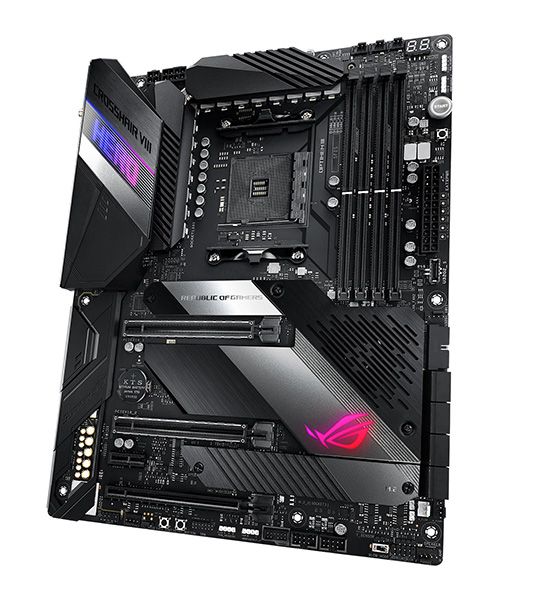 Key improvements come by way of connectivity support. On this WiFi model Asus provides an Intel AX200 chipset, superseding the AC 9560 we see on premium last-gen models, capable of a peak 2.4Gbps. Going down the wired route, Asus employs a standard Intel Gigabit LAN and a new Realtek RTL8125-CG capable of a slightly faster 2.5Gbps. Of course, you'll need the relevant supporting hardware to get the most out of these two new controllers.
The I/O section is where Asus/AMD goes to town on USB 3.1G2 (10Gbps). There are eight of these, split into seven Type-A and a single Type-C, plus a further four USB 3.1G1 (5Gbps). The board itself features both a USB 3.1G2 and USB 3.1G1 front-panel header, too.

Using the dearer Formula as an electrical base, minus its smarter displays and over-the-top VRM waterblock, the ROG Crosshair VIII Hero WiFi is a well-rounded board with no obvious weaknesses. Any problems are financial, because of the massive hike in prices between Crosshair generations. The 8th iteration is the best yet, with forward-looking networking and high-speed connectivity, but the £420 asking fee still feels steep. The broadly similar Maximus XI Hero AC, primed for Intel platforms, is £300.
Appreciating the BIOS hasn't changed much over generations, let's now see how it performs.